Landlords find renting is easier in this economy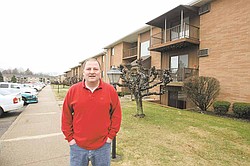 The Vindicator (Youngstown)

Photo
Craig Tareshawty's Brandywine apartment complex in Youngstown is at about 96-percent capacity. Many rental companies throughout the Mahoning Valley have experienced increased capacity levels in the past year.
By Karl Henkel
YOUNGSTOWN
If Craig Tareshawty's career were a poker game, he'd have a full house.
Well, close to full at least.
Like many rental agencies across the nation, the third-generation apartment owner (he bought his first six-plex at 20), has seen a greater level of interest in his properties, which total about 1,300 throughout the Valley.
It wasn't always that way, and until recently, renting apartments or homes wasn't the easiest thing to do.
"It's tough to be in the biz when banks were lending to anyone with a pulse," Tareshawty said of the housing industry.
Brandywine, Tareshawty's 565-unit complex on the city's West Side, is now at 96-percent capacity, a number he said was "pretty reflective" of his other locations.
Previous numbers, even in the past handful of years, hovered around 90 percent. It doesn't seem like a big difference, but for those apartment or housing owners still footing a mortgage bill every month, he said it could be the difference in making an on-time payment.
The rental boom isn't unique to one location.
Rick Noca, property owner at Simco Management, which owns more than 20 complexes in Ohio and Pennsylvania, says he's seen the same thing.
So has John Wyant, manager owner at Steel Valley Homes, a rental-property management company that's served the Valley for more than 40 years, who said the rental boom in the area has "exploded" in the past year.
Wyant said he never imagined shifting from selling properties to renting them, but that's just the way the business has taken him.
It's all a result of the nation's lowest rental vacancy rate in eight years. At the end of 2010, the rate was under 10 percent, a huge turnaround from a record-high vacancy rate a year before.
Wyant chalked up the quick swap to economic uncertainty.
Though more difficult to qualify for home loans, Wyant said a lot of clients are more skeptical of their jobs, or location of their jobs, such as those who flocked to the area to work at the Lordstown Chevrolet Cruze plant.
Paul Rybicki, 56, now of Niles, decided it was best to rent, since he took a transfer to the Lordstown plant about four months ago, and expects to eventually make his way back home to Buffalo, N.Y.
"Have to make one payment, and don't have to pay taxes other than out of payroll," he said. "It was a no-brainer."
Even more are expected to follow Rybicki's lead, according to the website Rent.com, which says that by 2012, the nationwide rental vacancy rate could be as low as 5 percent.
More renting means fewer are electing to buy, Wyant said, which means potential home-sellers are now becoming landlords.
"We're seeing a lot of people with homes for sale for a year, year-and-a-half, and not getting any hits," he said. "They're taking it off now and will attempt to sell it down the line."
Jim George, an independent property manager, said he won't even consider selling any home he quick-fixes, especially in Youngstown. He can buy homes in the city for anywhere from $30,000 to $50,000 and spend $10,000 to $12,000 fixing them up.
But he said most, including one just off Market Street, wouldn't net him half of what he paid for it.
"That's why we rent them out for $400 a month," he said.
One thing money won't buy is your rental property, and Real Living real-estate agent Patti Mika says for those in the right situation, home-seekers can get the best bang for their buck right now.
"This is definitely the time to buy," she said. "If you rent, all you're going to have at the end of the year is rent receipts."