All-AAC basketball teams announced

Photo
Nate Jacubec and the Struthers Wildcats won the All-American Conference White Tier and the Div. II district tournament at Boardman High. The Wildcats' season ended last week with a regional semifinal loss to Cleveland John Hay.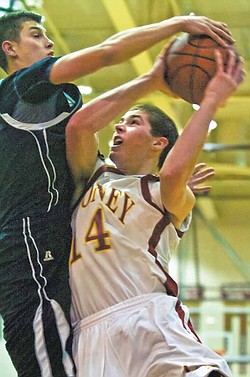 Special to the Vindicator

Photo
Struthers' Jake Jacubec blocks an attempt by Mooney's Ryan Farragher (14) during Monday's tournament game.
Staff report
Brothers Nate and Jake Jacubec highlight the All-American Conference boys basketball all-star teams, announced on Tuesday.
The Jacubecs were joined on the White Tier first team by teammate Adam Ryczaj.
Howland, champion of the Red Tier, was represented by T.J. Lanier, Dontea Dawson and Josh Davis.
Matt Szorady, Jacob Jaros and Peyton Aldridge of Blue Tier champion LaBrae also were named to the first team.
On the girls first team were Taylor Williams, Erika Notes and Kaylee Redon of Red Tier champion Howland.
White Tier co-champs Struthers was represented by Katelyn Aredale, Amanda Ditman and Hannah Dubec, and Liberty was represented by Mindy Dykes, Bianca Rozenblad and Vakeyla Merriweather.
The Blue Tier had a tie between Newton Falls and Champion. The Tigers were represented by Destiny Prusky, Jennifer Bjelac and Rachel Ellis, while Champion's first-team selections were MacKenzie Kiser, Haley McAllister and Lindsay Swipas.
ALL-AMERICAN CONFERENCE BOYS BASKETBALL RED TIER
First Team: T.J. Lanier, Howland; Dontea Dawson, Howland; Josh Davis, Howland; Colin Reardon, Poland; Drew Wagner, Poland; Danny Campolito, Canfield; Ryan Abraham, Canfield; Bobby Marino, Niles; Nick Miller, Beaver Local.
Honorable Mention: Stephawn Brown, Howland; Ben Tadla, Poland; Jaker Ferrier, Canfield; Ray Russ, Niles; Troy Hudson, Beaver Local.
WHITE TIER
First Team: Nate Jacubec, Struthers; Adam Ryczaj, Struthers; Jake Jacubec, Struthers; Mike Lopuchovsky, Hubbard; Kory Hopkinson, Hubbard; Jaylen Mann, Liberty; Preston Williams, Liberty; Ryan Wolfgang, Salem; Elliott Metheny, Lakeview.
Honorable Mention: Ja'Miere Brown, Struthers; Tyler Duez, Hubbard; Charles Perdue, Liberty; Taylor Fredrickson, Salem; Zach McDivitt, Lakeview.
BLUE TIER
First Team: Matt Szorady, LaBrae; Jacob Jaros, LaBrae; Peyton Aldridge, LaBrae; Tyler Kernen, Newton Falls; Cody Dillon, Newton Falls; Ty Underwood, Campbell Memorial; Claxton Lebron, Campbell Memorial; Mat Pagano, Girard; Ross Farmer, Champion.
Honorable Mention: Andre Elkins, LaBrae; Matt Brazin, Newton Falls; Lester Hughes, Campbell Memorial; Michael Bornemiss, Girard; Wes Webeer, Champion.
GIRLS BASKETBALL RED TIER
First Team: Taylor Williams, Howland; Erika Nites, Howland; Kaylee Redon, Howland; Sabrina Mangapora, Canfield; Cally Wollett, Canfield; Maura Bobby, Poland; Abby Brenoel, Poland; Cassie Davidson, Salem; Katie Hitchings, Niles.
Honorable mention: Olivia Nicholas, Howland; Kaitlin Kaleel, Canfield; Adriana Sikora, Poland; Lindsey Foster, Salem; Rachel Sussman, Niles.
WHITE TIER
First Team: Katelyn Ardale, Struthers; Amanda Ditman, Struthers; Hannah Dubec, Struthers; Mindy Dykes, Liberty; Bianca Rozenblad, Liberty; Vakeyla Merriweather, Liberty; Ali Gagne, Lakeview; Jamie Sentner, Lakeview; McKenzie Weber, Beaver Local; Allie DeLuco, Hubbard.
Honorable mention: Adrianna Garchar, Struthers; Kandance Coward, Liberty; Alisha Nichols, Lakeview; Allie Bangor, Beaver Local; Krista Julian, Hubbard.
BLUE TIER
First Team: Destiny Prusky, Newton Falls; Jennifer Bjelac, Newton Falls; Rachel Ellis, Newton Falls; MacKenzie Kiser, Champion; Haley McAllister, Champion; Lindsay Swipas, Champion; Courtney Aldridge, LaBrae; Brittanu Hill, LaBrae; Desiree DeFrank, Girard; Caroline Standohar, Girard; Tiera Graves, Campbell Memorial.
Honorable Mention: Bridgette Click, Newton Falls; Brianna Lewis, Champion; Julie Gibson, LaBrae; Miranda Boyle, Girard; Amy Jackson, Campbell Memorial.
More like this from vindy.com