Japanese disasters lead to GM layoffs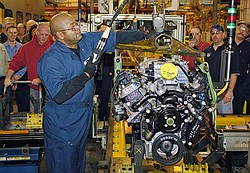 AP

Photo
In this file photo taken Dec. 18, 2009, Willie Ray, an employee of GM, hoists the last big block V8 engine from the assembly line at the General Motors Powertrain plant in Tonawanda, N.Y. General Motors Co. is halting some production at its Buffalo, N.Y., engine plant because of a slowdown in parts from Japan.
Associated Press
DETROIT
General Motors Co. on Monday halted some production and temporarily laid off workers at a Buffalo, N.Y., engine plant, another sign that Japan's disaster is affecting automakers around the globe.
GM is suspending production of engines built at its Tonawanda plant for the Chevrolet Colorado and GMC Canyon compact pickups, which are assembled at a GM factory in Shreveport, La. GM shut down its Shreveport operation this week because of a shortage of parts from Japan.
GM doesn't know when production will resume at either plant.
This latest shutdown at GM shows how interdependent the world's carmakers have become. GM last week became the first U.S.-based car company to say it would suspend production because of Japanese-parts shortages. Toyota and Subaru are scaling back production at U.S. plants because they depend on imports from Japan, whose car industry was hobbled March 11 after that nation's largest-known earthquake and tsunami.
Even though damage at Japanese auto plants was limited, uncertainty lingers. Factories are unlikely to return to full production for months, hindered by unreliable power supplies and extensive damage to some parts suppliers.
GM spokeswoman Kim Carpenter said Tonawanda has the parts it needs to make the engines, but it's not producing them because Shreveport doesn't need them.
Carpenter said 59 of the 623 workers at the engine plant will be affected. Workers will get around 75 percent of their pay while they're laid off.
More like this from vindy.com