BMX dirt specialist visits U.S. troops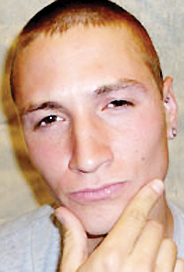 Photo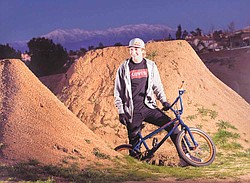 Photo
Austintown native Anthony Napolitan is getting ready to participate in another action sports season.
STATE COLLEGE, Pa.
Anthony Napolitan may not be on top of the world right now, but he's certainly been around it.
The BMX dirt specialist from Austintown finished 10th in the final Dew Tour rankings in 2010 — a bit off from his 2006 championship — but the 2004 Fitch High graduate isn't lacking for places to put his action sports talents into motion.
"I didn't focus on contests too much, but I've done more traveling and hanging out with friends and riding bikes," Napolitan said of summarizing last season, which included a third-place finish in Las Vegas at the Dew Tour's fourth and final stop of 2010.
That performance vaulted Napolitan into Dew's top-10 overall.
But one of the bigger highlights last year was going to Kuwait and Iraq with a Bikes Over Baghdad crew in December.
"We did a show in Kuwait and six different bases in Iraq," said Napolitan, who was also in a group with Youngstown's Zack Yankush.
"It was definitely a great experience because we were able to hang out with troops and give them a kind of one-on-one time that they don't usually get with people who aren't in military units."
The Bikes Over Baghdad Tour, presented by Harley-Davidson, entertains U.S. service men and women with shows that include stunts on bikes by the BMX brigade.
"Our ramp builders bought materials locally and built the ramps at every base," Napolitan said of riders such as Ron Kimler and Nate Wessel, who were at their peak maybe 10 years, but now put their expertise to use as course designers.
"They do a different setup at every base," Napolitan said of the ramps built from scratch and then left, possibly for a return show in the future.
"We'll bring some guys out from the audience and jump over them, too," said Napolitan, who also played a parade-like role by passing out free products, such as apparel provided by various clothing companies.
"We gave away I-Pods and all kinds of crazy things like that that they'd usually have to buy when they're out there," the BMXer said. "Either way, they have an awesome time.
"We'd go to their jobs during the day and they'd explain everything about their work. They're SO excited for us to be out there and for them to be able to tell us what they do. Sometimes, we got to do what they do, like cruising around in some of their bigger vehicles and shot some guns with them."
The tour ended with one soldier winning a brand-new Harley bike.
Napolitan recently spent five days (March 8-13) with another BOB event at the Al Udeid Air Force Base near Qatar.
"I'd never been to Qatar," the formerly travel-deprived Napolitan said. "I'm excited to do a couple demos for the troops."
The soon-to-be 25-year-old spent the month of February in Australia and then in New Zealand.
"Basically, I went there to get out of the cold and ride in their summer. Then I got invited to Queenstown, New Zealand to an event called "Farm Jam."
Napolitan said he'd never been to that island, either, so a third-place finish was icing on the cake.
"I was pumped. It was a nice way to end the trip and go home with a smile."
Back to where it all started, the USA, Napolitan said he's had a rebirth.
"Being 19 or 20 was a big time in my life because I was winning and I was on the podium just about every stop," Napolitan said of 2006. "Now that I'm almost 25, I've definitely had a learning curve so that I'm realizing a lot of things outside of BMX.
"I've kind of cut a lot of losses [purged negative personal experiences] over the past few years, so that I finally feel settled. I'm still learning about myself and I'm learning more and more about how I want to ride. Now I realize that contests are important, but I'm not going to stress over them like I did the past few years.
"You go and compete and anyone can win. I've accepted the fact that I don't care where I place. If I'm having fun on the course that day — like I did in Las Vegas when I finished third — I'll do well. In Vegas, I placed third because I was having fun."
After spending considerable time on the West Coast, Napolitan has made central Pennsylvania his base again and the reawakening is blinding.
"I've learned a lot more about how I want to ride now. Even in some of the buildings at [Camp] Woodward, I never had fun riding them, but now, after coming back East, I realize that 'Oh, man! I should have been hitting these lines [taking different lines and hitting different ramps to other ramps] four years ago.' So I'm really starting to find my riding spot again. I'm almost riding like how I was whe I was 16, 17 and 18. I'm starting to see all these things again and it's definitely refreshing."
Napolitan's main sponsors now are: Red Bull, DC Shoes (and apparel), POC helmets, Maxx's Tires and Kicker Audio, Equilibrium balance bands.
More like this from vindy.com