Austintown schools to buy vacant lot to improve traffic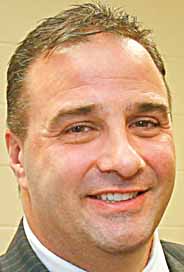 Photo
Austintown Superintendent Vince Colaluca
AUSTINTOWN
Austintown schools will purchase a vacant lot on Idaho Road to improve traffic flow and make room for two new buildings as part of the district's $50 million construction project.
School-board members voted to approve the $30,000 purchase at Monday's meeting. The lot is across the street from Watson Elementary School, 255 Idaho Road.
Superintendent Vince Colaluca said the district had the option of eminent domain in acquiring the property but was able to reach a compromise with the land's owners.
The board also approved a resolution to begin the 2011-12 school year Aug. 22 instead of Aug. 25. Colaluca said this was to allow for three additional days for preparation before spring standardized testing. The agreement was negotiated between the administration and the teachers union.
Two Frank Ohl Intermediate School students were recognized at the board meeting. Zachary Potkanowicz and Haden Webb performed during the school's annual talent show and again for board members Monday. Zachary played "Smoke on the Water" by Deep Purple on his electric guitar. Haden sang "Something" by The Beatles.
Also recognized at Monday's meeting were two teachers. Middle-school language arts teacher Michelle Best was recognized again for receiving the Outstanding Language Arts Educator award through the Ohio Council of Teachers of English Language Arts, or OCTELA.
Special-education teacher January Nelson received the 2011 Outstanding Cooperating Teacher of the Year Award through the Ohio Association of Teacher Educators for mentoring student teachers.
Fitch High School senior Amber Henik was recognized for winning a National American Vision Medal for a ceramics piece. Henik will attend a ceremony at Carnegie Hall in New York City on May 31 when the Alliance for Young Artists & Writers acknowledges this year's award recipients.