Valley military mom protests airline rebooking fees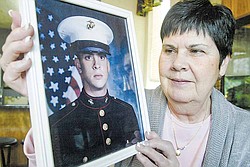 The Vindicator (Youngstown)

Photo
Winifred Flood holds a photograph of her son, Marine Sgt. Kenneth Flood. Winnie Flood didn't get to say goodbye to her son in person when he was deployed last month to Afghanistan because the airline she booked to North Carolina wanted an extra $300 to change the date of her flight following her son's change in deployment dates. Winifred Flood wants the airline to change its policies regarding military parents.
YOUNGSTOWN
Airline rebooking fees that Winifred Flood couldn't afford caused her to miss the chance to say goodbye to her Marine son before he was deployed to Afghanistan.
Distraught by her experience, Flood, of Youngstown, is on a crusade to ensure the same thing doesn't happen to other military mothers and fathers.
She wants airlines to expand their policies governing the waiving of rebooking fees for family members of military personnel to include parents.
In January, Flood booked a flight on US Airways for Feb. 7 from Pittsburgh to Raleigh, N.C., in plenty of time she thought to visit her son, Marine Sgt. Kenneth Flood, and see him off to Afghanistan. Sgt. Flood, stationed at Camp Lejeune, N.C., originally was to be deployed between Feb. 9 and 11. But, his departure was moved up to Feb. 7, the day of his mother's flight.
That's when Mrs. Flood's frustrations began.
She called the airline to reschedule the flight that she had booked through Cheap Tickets for $200 and was told that it would cost her an additional $300 — $150 for rebooking and $75 additional cost each way of the flight.
Mrs. Flood, a widowed mother of eight adult children, said she could not afford the additional $300 and asked about waiving the rebooking fees.
She said she was told that US Airways' policy for waiving fees for family of military personnel being deployed extended only to spouses and children, not parents.
"I told them I would go anytime before Feb. 7, but there was no bend to the policy. It was so upsetting. ... It's so hurtful I couldn't say goodbye in person," she said.
Mrs. Flood said she could have borrowed the money for a new flight, but reasoned that if she got there Feb. 7 she would still be able to see her son for a few hours. So she kept her original flight.
When she arrived at Pittsburgh International Airport, however, she sat for 21/2 hours waiting to board before being told there was a mechanical problem with the plane.
"I just couldn't believe it," she said.
Mrs. Flood called her daughter, Mary Dorney of Youngstown, who was in the hospital getting ready to give birth.
"She was crying, and I couldn't understand what she was saying. I said, 'Mom stop. What's going on'," said Dorney, who was with her mother during The Vindicator's interview.
Dorney said her mother wanted to cancel the flight because, with the delay, she was not going to get to North Carolina in time to see Kenneth, but the people in the airline's office would not refund her money.
Mrs. Flood was in the airport distraught and crying when an elderly lady offered to help.
"She was my guardian angel," Mrs. Flood said.
The unidentified woman took Mrs. Flood to the US Airways office and persuaded officials to refund the price of the ticket, gave her winter hat to Mrs. Flood and helped her into Mrs. Flood's daughter-in-law's car for the ride home.
"I didn't get her name. I would love to thank her," Mrs. Flood said.
A newspaper story written about Mrs. Flood in North Carolina attracted the attention of CNN and Fox TV, but when she could not produce records of her phone calls to US Airways, they elected not to do her story, she said.
She said she had telephoned the airline from her home land- line phone to change her flight ahead of time. She said she talked to a supervisor but didn't get a name.
Mrs. Flood said she called US Airways customer service and said the department wanted her to call back.
She reached someone in corporate communications, and she was told that the airline had no record of her calling.
Calls by the newspaper to US Airways corporate communications were not returned.
Though her daughter, Mrs. Dorney, was present during one of the calls, Mrs. Flood can't produce documents to prove it from her phone company AT&T.
An AT&T spokesman said the company keeps a record of customers' long-distance calls. Mrs. Flood said, however, she was told that individual call records are not kept as part of the service package she has, which includes free long-distance calling. Only the number of calls are recorded for billing.
All of that aside, and while it is too late for her, Mrs. Flood doesn't want other parents to go through the same ordeal.
"I couldn't drive to North Carolina myself, and the kids are all working or in college. I couldn't ask them," she said.
Checks with other airlines revealed a variety of policies governing waiving flight re-booking fees for military personnel and their families, ranging from Delta Airlines, which waives fees for military personnel traveling on orders but not for military family members, to JetBlue Airlines, which waives rebooking fees for any military family members including spouses, children, parents and grandparents, according to spokesmen for those airlines.
In between are airlines such as US Airways and American Airlines, which waive rebooking fees for military spouses and children, but not parents.
"No change in our policy is being considered at this time. It's a function of economics. We're not trying to punish anyone; we're just trying to keep the policy and expectations to manageable proportions," said Ed Martelle, a spokesman for American Airlines.
But, Mrs. Flood and her daughter think the airlines' policies should be changed. Mrs. Flood said she plans to call her elected representatives about the matter.
"I think airlines need to change their policies and allow mothers and fathers to see their military children off," Mrs. Flood said. "They are fighting for them [the airlines], and I think it is awful," Mrs. Flood said.