All pleased with wrestling at Covelli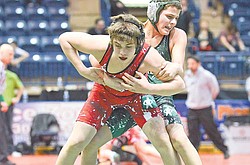 The Vindicator (Youngstown)

Photo
Tony Bannister (red), 12, of Wauseon, wrestles Stephan Gilbert, 12, of North Canton (green) at the Covelli Center Sunday evening. Bannister won the match.
By Greg Gulas
YOUNGSTOWN
The Ohio Athletic Committee and Covelli Centre officials were hoping that the past two weekends of junior high and grade school wrestling would draw the kind of numbers that other host sites had previously attracted.
With over 10,000 fans taking in the four days of action, the OAC is now looking to return to the Covelli Centre next year while possibly making an even longer-term commitment to the venue.
"This was our first time hosting both events in the Mahoning Valley and everything went extremely well. Everyone went out of their way to ensure the tourney's success but in the end, it was the wrestlers who stole the show," Jared Opfer, OAC business development director said.
Approximately 2,400 wrestlers competed in their respective district finals for 1,200 state positions. Those wrestlers then battled for the final 328 spots and the right to be named All-Ohio.
On Sunday, 41 champions were crowned.
Drew Fairbanks of the Austintown Wrestling Club posted a 3-2 mark in the tourney to move to 43-8 overall while the Canfield Wrestling Club also was well-represented, sending eight mat hopefuls to the post.
Brody Herman (40 pounds) wrestled in Division I while Alec Herman (45 pounds) finished sixth and Sean Whitehead (65 pounds), who posted a 2-2 mark, competed in Division II.
In Division III, Andy Garr (75 pounds) posted a 1-2 mark while Nathan Whitehead (90 pounds), who was 4-2 in the tourney, improved to 36-10 overall.
Three other wrestlers competed in Division IV with David Crawford (95 pounds) capturing sixth place and Georgio Poullos (100 pounds) sixth place as well in their respective weight classes.
Terry Adkins (130 pounds.) moved to 31-13 in his weight class after going 1-2 for the weekend.
Brett Powell, who just completed his 26th season as head wrestling coach at Austintown Fitch High, assisted the OAC both weekends.
"The past two weekends at the Covelli Centre have been absolutely fantastic," he said. "It's great for the kids, our community, the many businesses in the area and on top of it all, five young wrestlers were awarded $1,000 scholarships."
Honored with scholarship stipends were Mitchell Gross of Norwalk, Angelo Calderon of Sandusky, Dom Barlow of Heath, Zach Walker of Napoleon and Lucas Cummins of Cardington.
Over the past five years, the OAC has awarded over $40,000 in scholarships to its participating wrestlers.
"These are the only two tournaments in the state where the kids aren't separated by the size of the school," said Jamie Fausnight, coach of the North Canton Wrestling Club, said. "The best in each weight class wrestle one another."
Steve Bair, a senior at Youngstown State who wrestled at North Canton Hoover, served as an official for the event.
"With 10 mats and over 1,100 wrestlers, it makes for a long two days but is worth it when you are doing it for the kids," he said.
"It is really gratifying to watch so many up and coming wrestlers in one place for an entire weekend."
For Eric Ryan, Covelli Centre executive director, building off the wrestling tourney's success is paramount.
"We're pleased with the overall success of the tourney the past two weekends and want to do more events like this," he said. "Concerts and other major events draw much of the attention but events like wrestling draw the masses and everyone seems to benefit; it's the trickle-down effect."