METRO DIGEST | Labrae celebrates Democracy Day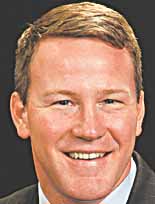 Photo
Ohio Secretary of State Jon Husted
Democracy Day
LEAVITTSBURG
Ohio Secretary of State Jon Husted will visit LaBrae High School at 1 p.m. Wednesday to help commemorate Democracy Day.
The day marks the anniversary of the passage of the 26th Amendment to the U.S. Constitution, which gave 18-year-olds the right to vote.
About 20 LaBrae seniors will take the opportunity to register to vote as part of the assembly. A few will have the opportunity to cast their first vote as 17-year-olds. Ohio law permits those 17-year-olds who will turn 18 by the November election the opportunity to take part in primary elections that select candidates for the fall.
'Legal addiction' forum
NEW MIDDLETOWN
The Springfield Township Police Department and its Juvenile Diversion Program will present "A Legal Addiction," an evening of free education on commonly abused substances from 7 to 8 p.m. Thursday at the Springfield Intermediate School Auditorium, 11333 Youngstown-Pittsburgh Road (state Route 170).
Springfield Township Police Chief Matthew Mohn said guest speaker Madeline Martin, a licensed, independent chemical- dependency counselor, will speak about substances such as energy drinks and aerosols. Educational material will be available.
Mohn said the presentation was made possible by the donation of Pastor Alan Leach and the New Springfield Church of God.
Film, talk on Cyprus
BOARDMAN
Nick Larigaski, president and chief operating officer of the American Hellenic Institute, will speak April 4 at St. John the Forerunner Greek Orthodox Church, 4955 Glenwood Ave.
The documentary, "Cyprus Still Divided: A U.S. Foreign Policy Failure," will be shown at 7 p.m. followed by a talk by Larigaski. A reception will be at 8:45. The documentary, produced by Emmy Award-winning filmmaker George Veras, explores why the United States failed to act during the 1974 invasion of the Republic of Cyprus by Turkey.
Hubbard chamber
HUBBARD
Hubbard Area Chamber of Commerce recently had its quarterly luncheon at Frankie's Main Street Cafe and elected its board of directors.
Elected were April Cheney of Signature HomeStyles, Dean Evans of Cortland Banks and Chad McConnell of Hubbard Lumber. They join board members Lanier Epperson, service director for the city; Amber Babik of Huntington Bank; Fred Hanley of Fred Hanley and Associates and a township trustee; Mary Ann Lark of Hubbard Soaring Eagle; Gary Mayle of Mayle Realty; Marianne Hallapy of The News of Hubbard; Tim Hopkinson of Frankie's Main Steet Cafe; and Al Sauline of Aqua Ohio.
For information on the chamber, call 330-534-5120 or send e-mail to hacc44425@yahoo.com.
Crash kills woman
ROOTSTOWN TOWNSHIP
A 57-year-old Stow woman was killed in a two-vehicle accident on Interstate 76 in Portage County on Saturday afternoon after she attempted to make a U-turn.
The Ravenna post of the Ohio State Highway Patrol is investigating the accident, which occurred at 3:23 p.m. just west of state Route 44.
Jeanne Gary had been westbound on I-76 before entering a prohibited U-turn crossover, then entered the right eastbound lane in the path of a tractor-trailer driven by Namden Singh Mann, 50, of Phoenix, Ariz.
The semi hit the back of Gary's PT Cruiser, and both vehicles veered to the right and off the road. They continued down an embankment and into a swampy area, according to the patrol.
Gary was pronounced dead at the scene. Mann and a passenger in the rear sleeper berth were not injured. No charges have been filed.
More like this from vindy.com