Mr., Mrs. Traino observe 50th anniversary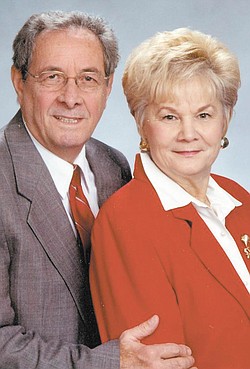 Photo
YOUNGSTOWN
Mr. and Mrs. Sam Traino of Youngstown, who were married Feb. 17, 1961, in St. Anthony Church, recently observed the 50th anniversary of their wedding.
Their son, Sam Traino III of Austintown, took the couple to dinner at a local restaurant, where they celebrated the event.
Mr. Traino was stationed with the U.S. Army in Germany for 18 months and served during the Berlin Crisis. He worked for U.S. Steel, Ohio Works, until the mill closed in 1980, and worked 13 years for Modern Builders Supply in Austintown until retiring in 1999.
Mrs. Traino, the former Virginia Bistarkey, worked for Strouss in Austintown part time for 15 years and is employed part time at TP Tools in Canfield.
More like this from vindy.com