Boardman students engage in World of Words

Photo
Neighbors | Sarah Foor .Before heading onstage to perform, Katelyn DeLadurantey took a few seconds to practice her speech cut, hoping to get character voices and hand motions perfected.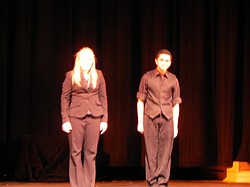 Photo
Boardman Speech Duo Interpretation team Alicia Lawson (left) and Kiyan Taghaboni performed their piece on famous literature to big laughs from their Boardman High School classmates.

Photo
A Boardman high school student performed a song about peace to close the World of Words English Department event on Feb 24.
By SARAH FOOR
There are many words floating around the halls of Boardman High School on any given day. But on Feb. 24, those words were song lyrics, essays, poetry and speech cuts during the English Department's World of Words event.
English department head Janie Marinucci has a simple explanation for the writing project that begins at the start of the winter semester.
"We like to think of it as a celebration of words," she shared. "It's an opportunity for students to practice their language arts, writing skills, artistic abilities and creativity to compete for certificates and prizes. Each year has a theme that the students must consider, and this year it's peace."
World of Words took over the Boardman Performing Arts Center for the day and provided a spotlight for students to share their ruminations on what peace meant to them — whether it was on posters, or in essays, poetry, or song.
"The interpretations were definitely wide this year. Some dealt with peace with the planet and others more on inner peace and world peace. Most identified with characters and literature that demonstrated their ideas to support their entries," Marinucci observed after the event.
The event provided support for the words of Boardman's speech and debate team.
"There are very few opportunities that the school gets to see our speech students perform," said speech coach Eric Simeone. "We love that World of Words provides us with a stage to show staff and classmates the wonderful work that our speech team does."
"World of Words is a great event," reflected speech performer Katelyn DeLadurantey, "and wonderful practice for the rest of our speech season."
More like this from vindy.com