Tressel to sit out 5 games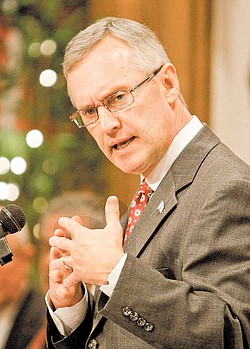 ASSOCIATED PRESS

Photo
Ohio State coach Jim Tressel speaks at a luncheon sponsored by the Pro Football Hall of Fame Monday, March 14, 2011, in Canton, Ohio. Tressel apologized to a room full of fans during his first public speaking engagement since being suspended two games and fined for violating NCAA rules. (AP Photo)
Associated Press
COLUMBUS
Now that the NCAA has finalized its ruling that five Ohio State football players who took improper benefits are suspended for the first five games of the 2011 season, Buckeyes coach Jim Tressel says he wants the same punishment.
On Thursday night, the NCAA denied Ohio State's appeal on behalf of the players including star quarterback Terrelle Pryor, reasserting that they must sit out the first five games this fall for selling autographed memorabilia and receiving discounted tattoos.
Coach Jim Tressel had been handed a separate two-game suspension by Ohio State after a later investigation for not notifying the NCAA, his Ohio State bosses or the school's compliance department that he was aware for more than nine months — including throughout his team's 12-1 season in 2010 — of players' improper benefits.
"Throughout this entire situation, my players and I have committed ourselves to facing our mistakes and growing from them; we can only successfully do this together," he said in a statement. "I spoke with athletics director [Gene] Smith, and our student-athletes involved, and told them that my mistakes need to share the same game sanctions."
Ohio State had discovered Tressel's knowledge of his players' NCAA violations while preparing the appeal of the players' five-game suspension.
"Coach Tressel has requested that he sit out the first five games of the 2011 season. I have accepted his request and we are taking action to notify the NCAA," Smith said in a statement.
Pryor, along with starting offensive lineman Mike Adams, leading rusher Daniel Herron, first-team receiver DeVier Posey and backup defensive lineman Solomon Thomas, acknowledged they sold rings, trophies and apparel in 2009. In addition to sitting out the first five games against Akron, Toledo, the University of Miami, Colorado and Michigan State, they also must repay to charity the equivalent of the benefits they received, ranging from $1,000 to $2,500.
"Like my players, I am very sorry for the mistakes I made," Tressel said in the statement.
More like this from vindy.com