Milton Twp. Police Department on Facebook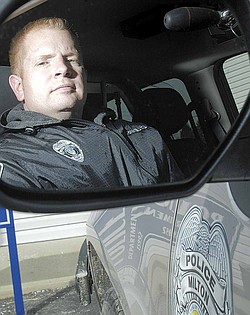 Photo
Lt. Jeffrey Lewis of the Milton Township Police Department created a Facebook account where he posts warrants, photos and information about cases.
By Elise Franco
efranco@vindy.com
LAKE MILTON
The Milton Township Police Department is using its Facebook page to help solve crimes, and it's working.
Police Chief Michael Saltsman Sr. said the department recently began using the social networking site as a crime-solving tool.
Saltsman said at first, the page was mainly a source of information for residents on neighborhood happenings.
Now, however, friends of the department's page — including residents, nonresidents and other law-enforcement officials — can see links to local news stories and information and photos of people recently arrested in the township, as well as those police need help locating, he said.
"I suggested that we start putting warrants up on there," Saltsman said. "We've gotten a really good response to it all."
The chief said the page was created and is maintained by Lt. Jeffrey Lewis.
Saltsman said that on March 4, Lewis posted the picture of Carl
Myers, 54, who was wanted on forgery and theft charges. Within one day, information on Myers' whereabouts was called in to the department, Saltsman said. He's since been arrested on those charges.
"There are so many people on Facebook that we're getting information out there faster," he said. "It's making the community aware of things that are going on."
Lewis said Facebook page Facebook page has been so successful in such a short time because of the volume of people who use it.
"I'd say it's in a rare household that somebody is not on [Facebook]," he said. "And they check it morning, noon and night. It really gets the word out of what's going on."
Lewis said it's an easier way for residents to contact police after hours, since it is a smaller department with a front office that closes in the early evening.
"If you come by after hours there's likely no one there in the front office," he said. "This is an easier, more immediate way to hook up with us."
Saltsman said other local departments, such as Newton Falls, Boardman, Lordstown and Cortland, also have Facebook pages.
"I knew [Facebook] was big, but I didn't expect it to take off like it did for us," he said. "It's another good tool we can use to help us do our jobs better."