Victorian Players offer thought-provoking 'Agnes'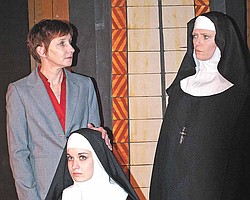 Photo
If you go
What: "Agnes of God"
When: 7:30 p.m. Friday and Saturday, and March 25 and 26 and April 1 and 2; and 2 p.m. Sunday, and March 26 and April 3
Where: Victorian Players Theater, 702 Mahoning Ave., Youngstown
Tickets: $10 ($8 for students and seniors); call 330-746-5455
702 Mahoning Ave., Youngstown
Staff report
Youngstown
The Victorian Players' production of John Pielmeier's drama-mystery "Agnes of God" opens Friday for a three-weekend run.
The story of a novice nun who gives birth to a baby that is found dead in her convent room seems fairly straightforward on the surface. But it is the intricacies in the plot that make it fascinating theater. With only three characters on stage for the entire play, the plot examines a wide range of subjects.
Mother Miriam Ruth, the Mother Superior at the convent, examines the possibilities of miracles while keeping a firm grip on the realities of today's world. On the other side of that coin is Dr. Martha Livingstone, a psychiatrist who has been brought in to investigate the incident. She must tread a fine line but, in the process, is still enveloped in the emotion of the situation as she explores every possibility, including the emotional and mental stability of the victim.
And Agnes, the novice nun, struggles to obtain any clear recollection of the incidents involved.
The play is said to be based on an actual incident that occurred in a convent near Rochester, N.Y.
A strong cast of actresses will highlight the Victorian production. Playing Agnes is Candace DiLullo, with Molly Galano in the role of Dr. Livingstone, the psychiatrist. As Mother Miriam Ruth, Cheryl Games will make her Victorian Players debut.
Terri Wilkes is the show's director.
More like this from vindy.com