---
Executive Proposed Budget for FY 2012-13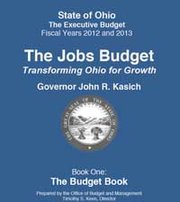 Document
Executive Budget for Fiscal Years 2012 and 2013
The state of Ohio's fiscal year be- gins July 1, which means the Ohio General Assembly is not under deadline pressure to put Gov. John Kasich's first biennium budget on a fast track — especially since he is proposing cuts in funding that are wide and, in many cases, deep.
We would hope that the majority Republicans in the legislature temper their urge to rubber stamp the two-year spending plan just because it has been produced by a Republican governor.
By the same token, we believe it is premature for the opposition Democrats to dismiss the budget off-hand. We realize that partisan politics underlie just about everything that occurs in state government, but leadership requires thoughtful, open deliberations, first at the committee level, and then during a vote in the House and Senate.
The cuts proposed by Kasich are not a surprise. During last year's general election, he made it clear that all Ohioans would have to share in the pain of balancing a budget with a projected $8 billion revenue shortfall. However, while he is advocating cuts in the Local Government Fund, health care programs — especially Medicaid — primary, secondary and higher education and in the funding for state agencies and departments, the governor is also standing firm on his pledge to cut taxes and give businesses other financial incentives.
When his director of the Office of Management and Budget and other cabinet officers appear before the House and Senate to explain and justify the two-year budget, we would hope they answer this over arching question: What assumptions did the administration make in concluding that the tax cuts and other incentives will create the number of private sector jobs necessary to deal with decrease in revenue?
Legislators should also delve into Kasich's proposal to sell off five state prisons to private interests and privatize the Ohio Lottery and the profits from liquor sales. The profits would be used as seed money for the new private, nonprofit JobsOhio, which will provide grants to fuel business growth
Other initiatives in the budget would expand school choice vouchers, give parents, students and teachers the ability to take over failing schools, and funnel Medicaid recipients into a more coordinated style of health care.
Rewards
Kasich said the administration wants to reward teachers for performance and hospitals and doctors for good care in the same way, he says, he will reward JobsOhio employees for bringing new work to the state.
In unveiling his $55.5 billion, two-year state operating blueprint Tuesday, the governor said it can't be compared to past budgets because it contains so many innovative approaches to state operations.
"The one thing that I think you need to understand is that this budget is loaded with one reform after another," Kasich said at a press briefing on the plan. "It is, I would guess, the most reform-oriented budget in modern Ohio history."
Reform in the midst of a national recession is necessary, but when reform turns state government on its head, as Kasich's budget does, there must be more of an explanation of the goals than what was laid out Tuesday.
It is be hoped that the budget hearings in the General Assembly will address the myriad concerns expressed this week.
With Republicans in control of state government, there may be an eagerness to ignore the opposition. That would be a mistake. There will be a public backlash if the governor's spending plan is given the same partisan treatment as the privatization of Ohio's job-creation effort and the collective bargaining reform bill.