Girard's O'Connell to visit Obama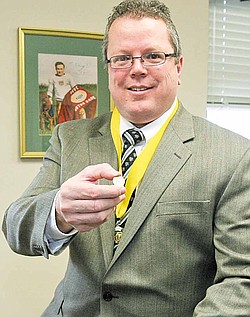 Photo
Danny O'Connell, director of support services at Youngstown State University, is going to the White House reception celebrating St. Patrick's Day today. O'Connell of Girard is an active member of the Ancient Order of Hibernians. He's proud of his Irish heritage and notes that 22 U.S. presidents were of Irish descent. He also carries Irish coins in his wallet and plans to give one to President Barack Obama, bearing 1961, the president's birth year.
By DENISE DICK
denise_dick@vindy.com
YOUNGSTOWN
The President doesn't spell his name Barack O'Bama, but he'll mark St. Patrick's Day with others of Irish descent including a Girard man.
Danny O'Connell, Midwest area director of the Ancient Order of Hibernians, is headed to the White House today for the reception celebrating St. Patrick's Day.
"I'm very excited," said O'Connell, of Girard, who is director of support service at Youngstown State University. "Here's this guy off the street in Youngstown and I'll be with congresspeople and senators."
The Irish prime minister also is among invited guests.
It's O'Connell's involvement with AOH, the largest and oldest Irish Catholic charity in the United States, that earned him the invite. He was a former state and national director.
"Our group is celebrating the 175th anniversary this year, and we're 40,000 strong," O'Connell said.
A poster in his YSU office bears a photo of the White House with "22 residents of this house had Irish roots" printed at the top. It hangs behind O'Connell's desk in Smith Hall at YSU. In fact, Obama's roots on his mother's side have been traced to Ireland.
AOH has a three-tiered mission, promoting charity, Irish culture and political education.
Among O'Connell's roles when he was national director was serving as immigration chairman. He developed a three-pronged action plan. The plan addresses general immigration, undocumented Irish immigrants and former political prisoners.
About a year ago, O'Connell spoke at a White House event about immigration and the peace process in Northern Ireland. It was attended by about 80 people including Irish-American leaders.
"I was the only one speaking about immigration," he said.
O'Connell attributed that engagement to his latest White House invite.
The invitation allowed him to bring a guest and when O'Connell's father didn't feel up to the trip, O'Connell asked Cynthia Anderson, YSU president. She said she couldn't get away so O'Connell is taking a fellow Hibernian, he said.
O'Connell, whose great-grandparents on his dad's side came to the United States from Ireland, has fond memories growing up.
"I remember my mom and dad singing at the piano on St. Patrick's Day," he said.
O'Connell, who is Slovenian on his mother's side, has been to Ireland 14 times and attended the Bloody Sunday commemoration. It marks the shooting of Irish protestors by British paratroopers in 1972 in Derry, Northern Ireland. Thirteen were killed and 14 others injured.
Last summer, a report initiated by former British Prime Minister Tony Blair concluded that the protestors posed no threat to the British soldiers and that the shooting was without justification, according to Encyclopedia Britannica online.
While the homeland of his great grandparents is a lot different from where he grew up, O'Connell sees similarities.
"Most of Northern Ireland is a lot like Youngstown," he said. "It's a depressed area, but the people are always happy and pleasant."