Area workers gather to voice concerns
Executive Proposed Budget for FY 2012-13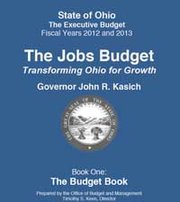 Document
Executive Budget for Fiscal Years 2012 and 2013
SALEM
JoAnn Johntony is fed up with Gov. John Kasich.
Johntony is the state president for the Ohio Association of Public School Employees and the American Federation of State, County, and Municipal Employees.
She's also the head custodian at Girard City High School and made no bones about her view of Gov. Kasich's plans.
"He is out to destroy us," she said Tuesday during a rally in Centennial Park.
About 200 area workers gathered there to voice their anger after the governor rolled out a $55 billion two-year state operating budget that he has said contains many innovative approaches to state operations.
But the crowd in Salem wasn't buying it.
People in the crowd were asked, "Are you fired up?"
The crowd answered, "We're fired up!"
One person said, "We can't take it no more."
Among the crowd at Centennial Park were members or officials from the Communication Workers of America, Columbiana County Democrats, the United Auto Workers of America, Beaver Local Schools, the Trumbull County Joint Vocational School, teachers from the Jackson-Milton School District, and workers at the Columbiana County Board of Developmental Disabilities.
While people were gathering, many people took part in a loud chant consisting of an obscenity and the governor's name.
The Stand Up for Ohio event was one of 13 rallies statewide Tuesday.
A statement from the Stand Up organization said that the governor and state senators, "pushed through a bill restricting workers' rights despite bipartisan opposition," a reference to Ohio Senate Bill 5, which would restrict collective- bargaining rights for public employes.
The bill is pending in the state House.
A statement by Latoya Holcomb, a parent of students in the Youngstown school district, was released at the rally. She said: "I don't know how you can tell my kids' teacher that they have no say in the classroom, tell them they are going to be fired if they speak up for my child, and expect me to think that you aren't attacking my community. I'm not personally in a union, but don't go after my kids' teacher to save a buck."
Orneil Heller, an assistant fire chief in Warren, also said in the statement, "We need to have the ability to sit at the table and be a part of the talks concerning our safety, health and other issues."
More like this from vindy.com