McDonald advances to regional title game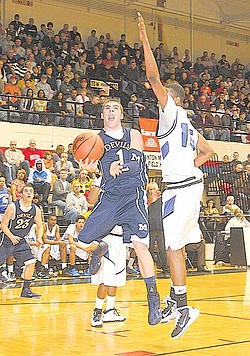 Special to the Vindicator

Photo
McDonald's Justin Rota (1) drives to the hoop as Richmond Heights' Tommy Scales goes for the block during a Division IV regional semifinal game Tuesday night in Canton.
MCDONALD 54
RICH. HTS. 52
Next: McDonald vs. Berlin Hiland, Friday, 7:30 p.m., at Canton Fieldhouse.
By Jon Moffett
CANTON
Justin Rota felt like he was in one of those inspirational sports movies where everything goes into slow motion at the end.
So when he watched as his layup attempt swished through the basket, the 1.5 second left on the clock had to feel like an eternity.
Then, a few seconds later, it was all over. Just like that.
Rota's shot proved to be the difference in a 54-52 victory in a Division IV regional semifinal against Richmond Heights at the Canton Fieldhouse on Tuesday. It was the first-ever regional victory for the program.
"It means a lot, but we just want to go to the next step," Rota said. "I'm not satisfied. I want to do more. But being that this was the first time in school history, I'm glad we're playing Friday night. I'm really looking forward to it."
Not only did the Blue Devils (24-0) earn a big, fat check mark in the regional win column. McDonald earned a date with Berlin Hiland for the regional championship Friday.
McDonald coach Jeff Rasile looked like he had been in a heavyweight fight after the game. His face was red, he was sweating, his voice was gone and he was hunched over — he said he tweaked his back just before halftime. Though he didn't play, it was fitting because his team had just had a main event-worthy bout.
McDonald used only six players — starters Rota and twin brother Nick, Matthias Tayala, Louie Ronghi and Kenny Roos and substitute Stephen Politano — to take down the Spartans (24-1). Three McDonald players had three fouls, but Rasile refused to make a change.
Go with what got you there. Simple as that.
"You know what, these guys are used to it. [Tayala and the Rotas] know they're going to play 32 minutes," Rasile said. "I knew if it came down to gut-check time we'd come up with it."
The Blue Devils got a gut check right before halftime.
Richmond Heights guard Kareem Rock drained a 3-pointer as time expired to give the Spartans a 31-28 lead at the half. But rather than stew about it, Rasile ignored it.
Justin Rota, who had 10 points, seven assists, five rebounds and four steals, said Rasile didn't talk about the shot. Just what to do next.
"We didn't really say much about it at halftime. In fact, Coach came in there [and talked about the strategy]," he said. "Other than that, we didn't talk about it. We were down by three at halftime. It's not that big of a deal."
What is a big deal is what the win means to the program. Many of the players, and Rasile, didn't have much to say about the team's place in history. Instead, the conversations all morphed into talking about what is next.
The experience though, was not as nearly as important as, well, the experience. The Blue Devils played their final game of 2010 at the Fieldhouse. And Rasile said that experience was crucial in preparing for the arena, crowd, game and moment.
Tayala, who led the team with 19 points, said scouting Richmond Heights also helped. Tayala was matched up against 6-foot-6 post player Tommy Scales. Tayala said it was the toughest matchup he'd faced all season.
"He's 6-foot-6 and pretty athletic," he said. "I knew he goes real hard and that I'd have to meet the challenge and play big and just beat him up pretty hard."
Richmond Heights coach Don Gross said his team was aware of McDonald's talent. But sometimes game tape can't show hustle or desire.
More like this from vindy.com