Butler's goal: Return to title game, and win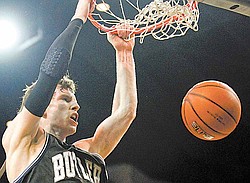 ASSOCIATED PRESS

Photo
Butler's Matt Howard dunks during the second half of the NCAA college Horizon League conference championship basketball game against Wisconsin-Milwaukee, Tuesday, March 8, 2011, in Milwaukee. Butler won 59-44.
Associated Press
INDIANAPOLIS
Second-best just won't cut it for Butler this year.
Last year's NCAA tournament darlings and defending runner-ups are back with an even bigger goal: Winning the whole darn thing.
"You don't come in looking to win one game or to make it to the Sweet 16," senior guard Zach Hahn said Tuesday. "Our goal is to play in Houston at the end of the tournament."
Clearly, this is not the same team that captured America's hearts with its Final Four run and came within a half-court heave of beating Duke in the title game.
Gordon Hayward left after his sophomore season for the NBA. Avery Jukes and defensive stopper Willie Veasley graduated. Point guard Ronald Nored has been replaced in the starting lineup by senior Shawn Vanzant.
But there are plenty of similarities.
The Bulldogs still rely on lockdown defense, taking care of the basketball and making 3-pointers. They still have undersized forward Matt Howard leading the charge inside and Shelvin Mack taking care of things on the perimeter.
And like last year, college basketball analysts are already writing off Butler.
Many believe Old Dominion (27-6), the Colonial Athletic Association champion, will use its rebounding prowess and "home-court" advantage to knock out the Bulldogs (23-9) in Thursday's game in Washington. A year ago, many experts called UTEP the trendy first-round upset pick. Butler won that one 77-59.
Last year, Butler entered the tourney on a 20-game winning streak after claiming both the Horizon League regular-season and tourney titles. This time, the Bulldogs won nine straight to earn a share of the regular-season league crown, the tourney championship and a school-record fifth straight NCAA bid.
And they've done it the same way — by holding 10 straight opponents to fewer than 70 points and half of those to less than 60.
Coach Brad Stevens calls it a winning formula.
"I think this team is playing its best basketball at the right time," he said. "It took some time to become a good team at both ends of the floor, but the commitment has always been there and now we're back where we want to be. The [Butler] teams that have done the best in the NCAA tournament have played their best at the end of the season, so I feel good about it."
That's not good news for Old Dominion or anyone else in the Southeast Region because Butler just spent an entire season going through what amounted to an NCAA tourney-type environment.
They were the feature attraction at every venue in the Horizon League. Louisville asked Butler to be the first opponent at its new arena. Duke agreed to a title game rematch in East Rutherford, N.J. Stanford became the first Pac-10 team to visit Hinkle Fieldhouse in more than four decades.
Things didn't go according to script this season, though.
Butler lost three straight games in late January and early February, the longest losing streak of Howard's four-year career. Three players, including Howard and Nored, missed games with concussions.
More like this from vindy.com