Tressel "apologizes" to fans at HOF luncheon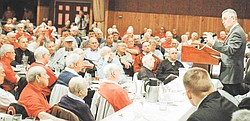 ASSOCIATED PRESS

Photo
Ohio State coach Jim Tressel speaks at a luncheon sponsored by the Pro Football Hall of Fame Monday, March 14, 2011, in Canton, Ohio. Tressel apologized to a room full of fans during his first public speaking engagement since being suspended two games and fined for violating NCAA rules.
By Todd Porter
Canton Repository
CANTON TOWNSHIP
Applause wasn't what it used to be. Then again, it wasn't business as usual when Jim Tressel made his annual appearance at Monday's Pro Football Hall of Fame Luncheon Club meeting.
Sure, no one packs them in at Tozzi's on 12th like the Ohio State University football coach. But the standing ovation the sellout crowd of nearly 400 gave Tressel was pleasant, not rousing.
This was unlike past years, when after wins against Michigan and a BCS bowl opponent, Tressel got a second ovation.
Since OSU suspended Tressel for two games to start the 2011 season and fined him $250,000 for a "perceived" rules violation last week, Tressel's image has taken a hit.
Monday, he "apologized" four times.
"I can't talk a whole bunch about what recently has gone on because of the nature of the situation," Tressel said. "I can tell you this: I consider all of you a part of Buckeye Nation.
"What I would like to say to this part of Buckeye Nation is I sincerely apologize for what we've been through this recent time. I apologize I wasn't able to find the one to partner with, and perhaps handle our difficult and complex situation we have."
Tressel also apologized to the men's basketball team, the No. 1 overall seed in the NCAA Tournament, for taking attention away from its success. He did the same for the women's team.
Has the whole story been told? He said he couldn't speak to specifics.
When asked if he forwarded the e-mail from Christopher Cicero, a former Buckeye walk-on and Columbus attorney who said he warned Tressel his players were selling memorabilia to a guy suspected of drug related activities, Tressel said, 'Which one? You mean the one when he said, 'ÀúI want your confidentiality?' No.' "
Whether another e-mail from Cicero exists that doesn't request confidentiality and, if so, whether it was shared with anyone else, is unclear.
The theme of Tressel's speech was handling adversity.
"The mission doesn't change. That's the pledge I have to you,' Tressel told the crowd. 'We talk all the time about two things you better understand.
"In the course of time, you're going to have adversity, and you better handle it. In the course of time, you're going to have success, you better handle it. ... I've gained a great deal more from adversity-type situations than I have the wonderful things that have come my way."
Former Buckeyes Dustin Fox and Tim Anderson, both Stark County residents and members of the 2002 national title team, showed up to support their former coach. Kirk Barton, a Perry High graduate and current quality control coach at OSU, accompanied Tressel to Canton.
There was a mob of fans and reporters around Tressel as he walked away signing autographs. He got into an SUV and headed for the airport to fly to an alumni event in Toledo.
More like this from vindy.com