McDonald seeks its first win past district level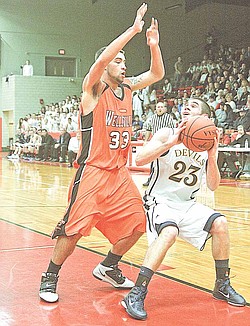 Special to the Vindicator

Photo
Nick Rota (23) and the Division IV McDonald Blue Devils will have the opportunity tonight to attain something that their extremely successful basketball program has yet to achieve when they face Richmond Heights at Canton Fieldhouse: a regional victory.
GAME TIME:
Matchup: McDonald Blue Devils vs. Richmond Heights
When: Today;
tip-off at 8 p.m.
Where: Canton Fieldhouse
By Tom Williams
McDonald
Tonight in the Canton Fieldhouse, the McDonald High boys basketball team will pursue something its extremely successful program has never experienced — a regional victory.
If the 23-0 Blue Devils get it by defeating unbeaten Richmond Heights (24-0), there's one game this season that did more than anything to prepare them.
It wasn't the 19 blowout wins McDonald enjoyed in the regular-season. Nor were any of the three tournament cakewalks very challenging.
The one game that McDonald's players hope to channel tonight came 17 days ago on the Blue Devils' court when they defeated Southern, 57-49, in a contest that was much closer than the score indicates. With the Blue Devils ahead 48-38 early in the fourth quarter, Southern's Eric Baker and Jake Boyle hit back-to-back 3-pointers to throw a scare into the Blue Devils.
"The conference this year was pretty tough," said McDonald coach Jeff Rasile of the Inter Tri-County League Tier Two. "Southern was a good basketball team."
Rasile called the Southern game, "interesting because we didn't have [another] game this year where we didn't have a double-digit lead in the fourth quarter so it was a little scary."
With 90 seconds to go, Indians point guard Brett Hunt carried the ball into McDonald's zone where Nick Rota knocked the ball loose to his twin brother Justin who scored an easy lay-up. A few moments later, Nick Rota stole the ball again for another easy score.
"That game really got us ready for tournament, that was a tough game," Justin Rota said. "It was good to have a game like that to really get us ready for the tournament. I'd rather have a game like that than a blowout [where you can] get bigheaded and stuff. It really set us up."
Asked if the Southern game was a wake-up call for a team that has had few obstacles this season, Matthias Tayala said, "You could say that. It makes us a lot better. It helps us stay in a good mindset.
"I think that could have been a wake-up call to make us come out harder."
Nick Rota says the stakes are at their highest now.
"You've just got to know that anything can happen at anytime of the game and you've just got to give everything you've got whether you are up 20 or down 20," Rota said. "It's really great to win these games, but what we really want to do is go down to Canton and win down there, do something we didn't do last year."
Tayala said the Blue Devils have achieved the goal that meant the most.
"The Rotas, Kenny [Ross], Louie [Ronghi], me — we all want to go a little further," Tayala said. "McDonald hasn't ever won a regional game before and we want to change that by getting a win down in Canton."
Rasile acknowledged that the Blue Devils return to Canton are a bigger roll than last year when they won the Division IV district title with a 46-44 victory over Youngstown Christian.
In last year's regional semifinal, McDonald lost to Shadyside, 65-49.
Last Friday, McDonald won another title with an 85-53 win over Wellsville where Nick Rota scored 30 points while Justin Rota and Tayala each had 20.
"Last year, it went down to the wire so it was a different intensity," Rasile said of the Youngstown Christian win. "I really felt that we were the underdog whereas in this game, we were the favorite. It was just a different game totally but they both were nice to win."
Rasile agreed it's good to have at least one recent game that forced the Devils to work hard at the end.
"[The experience] seemed to work out well [for us] in the tournament because we rolled pretty well," Rasile said. "But [tonight] will be a whole different beast."
More like this from vindy.com