Kasich to reveal his first state budget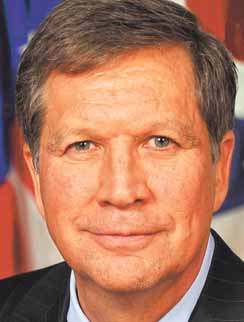 Photo
Cleveland Plain Dealer
COLUMBUS
The John Kasich era of state government will begin to take real shape today when the Republican governor unveils his first state operating budget.
Kasich's plans are expected to include selling off five state prisons for an estimated $200 million as well as leasing the state turnpike for an expected $3 billion or more, a source in the Kasich administration has told The Plain Dealer.
The administration initially had planned to prohibit videos and photographs of the news briefing and to bar reporters from broadcasting audio of the session. But the administration reversed course after Ohio news outlets objected to the limitations.
Privatization plans also might include turning over management of the state lottery as well as state liquor distribution to private entities to raise cash.
Timber sales and oil- and gas-drilling on state parkland are expected to be part of the plan, as is sentencing reform that would keep low-level offenders out of jail.
Cuts to many areas of state government also are expected to materialize in the budget, including cuts to drug courts, higher-education programs, children's hospitals and state child-care programs.
Ohio's expensive Medicaid program, which accounts for 30 percent of the state's general revenue fund budget, also is likely to see major changes.
By state law, the state budget must be balanced, an especially tricky task this year with a projected shortfall of $8 billion.
Kasich's solution probably will be a mix of the privatization moves, state government cuts, changes to Medicaid, and a forecast predicting some tax revenue growth over the next 24 months.
A news briefing is scheduled for early afternoon, and Kasich will host a town hall meeting in Columbus at 6 p.m. Tickets are required for the town-hall meeting, which will be streamed at ohiochannel.org.
More like this from vindy.com