Council to consider rehiring golf pro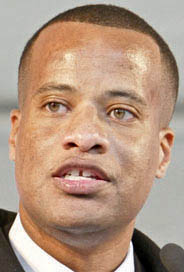 Photo
Youngstown Mayor Jay Williams
YOUNGSTOWN
City council will consider legislation Wednesday to rehire the golf pro to manage the Henry Stambaugh Golf Course for up to $76,000.
The city paid David Boos that amount to manage the nine-hole course last year.
City administrators tried to lower the management cost but were unsuccessful and are recommending council approve the contract with Boos.
If council approves the proposal, it would go to the board of control for final approval.
The golf course is expected to open in early April and remain open until Nov. 30, said Mayor Jay Williams. The course usually opens in March.
The city's financial plan for the course is the same as last year with Boos managing it and the city paying other personnel at the North Side facility to be cashiers as well as spending money for grounds maintenance, equipment and utilities.
"Dave has a passion for the place," Williams said about the golf course. "He understands our goal about breaking even."
The financially struggling city opted last year to privatize most of the course's operations to save money.
The city spent $116,242 on the course last year with revenue of $88,954. The financial shortfall was similar to 2008, the last year the city ran 100 percent of the course's operations. But the city was losing about $100,000 annually in previous years.
City residents pay $8.50 to play the nine-hole golf course. Those who don't live in the city pay $9 a round. Those age 60 or older play for $1.
Also Wednesday, council will consider minor changes to its policy on Internet sweepstakes businesses.
If approved, the policy would eliminate a requirement that each business have state certification to run. There is no state- certification program for the businesses.
Also, if the state determines the Internet sweepstakes businesses are illegal, the city's law would be repealed.
The changes won't impact the restrictive location part of the legislation, said Councilman John R. Swierz, D-7th, sponsor of the proposal.
The businesses permit customers to buy Internet time and go on websites to play sweepstakes games of chance. Those who win receive prizes or money.