An 'A' for effort: Youngstown names Teacher of the Year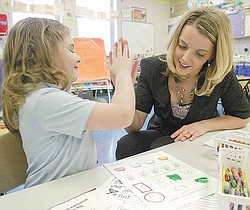 The Vindicator (Youngstown)

Photo
Jodi Kosek, a first-grade teacher at Harding Elementary, high-fives student Savana Cline. Kosek was named Youngstown City Schools' Teacher of the Year in an award ceremony Monday morning.
TEACHER OF THE YEAR
Who: Jodi Kosek, 31
Where: Harding Elementary in Youngstown
About Mrs. Kosek: Teaches first grade, has taught for 10 years.
By Karl Henkel
YOUNGSTOWN
Jodi Kosek decided at a young age she wanted to be a teacher.
First, for the sticker collections and colored chalk.
But as Kosek got older, she got a firsthand look at how teachers can impact their students. Her two brothers struggled in school, but got the help they needed from instructors that went the extra mile.
"That made me realize how significant a teacher can be," Kosek said. "I just thought that was amazing how one person can really shape and have that much impact.
"I wanted to be that person."
If she had any doubts about fulfilling that goal, they were likely erased Monday as she was named Youngstown City School District's Teacher of the Year, an award presented annually for the past 25 years.
Kosek, who was serenaded by her first-grade class with a special song in her honor, was humble in her acceptance speech at Harding Elementary, referring to herself as "a blooming flower in a garden of the heartiest flowers."
It was also admittedly bittersweet, as Kosek teared up when it came time to thank her family in attendance, and to reflect on one who wasn't.
Tim Snow, the youngest of her brothers from whom she drew inspiration, had died just a week earlier from medical complications.
He was 29.
Kosek, 31, ruminated on a couple of instances involving her brother, one where Tim was in first grade, bouncing in and out of school between medical appointments and getting little help from his teacher, and the other, in high school, when despite suffering kidney failure, he received tremendous support from his instructors.
"They gave him the extra time," she said. "People that still, as an adult, he would go back and see."
Kosek, who has both bachelor's and master's degrees in education from Youngstown State University, strives to be that kind of teacher.
Her journey hasn't always been easy. Kosek has taught for 10 years in three districts. She said bouncing around between districts and grades (she's taught kindergarten, and third, fifth and sixth grades before shifting over to first grade this year) sometimes got to her.
"I used to think it was to my disadvantage for that to happen," she said. "As I've become older and wiser, I realized it's to my benefit.
"I feel like I'm always on my toes and always learning."
Harding Principal Diane Guarnieri gave kudos to Kosek's flexibility.
"Mrs. Kosek has adapted extremely well," she said. "Part of that, I think, is her caring personality."
And if Kosek ever needs any advice, she's also got her husband Justin, a teacher and coach at P. Ross Berry Middle School.
Together, the high school sweethearts have two children, Kylee, 8, and Kaesen, 4.
Like parenthood, there's a lot of planning that goes into teaching, but no matter what the circumstances Kosek said it's all about the kids.
"So often they take you down another path that usually ends up being better than you anticipated," she said. "For them, everything's exciting, and it's a lot of fun for me."
More like this from vindy.com