Akron's Dambrot suggests Zips may surprise No. 2 Notre Dame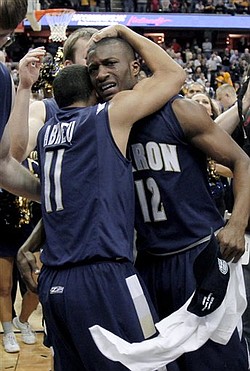 ASSOCIATED PRESS

Photo
Akron's Darryl Roberts (12) and Alex Abreu (11) hug after Akron won the NCAA college basketball Mid-American Conference championship 66-65 over Kent State in overtime Saturday, March 12, 2011, in Cleveland.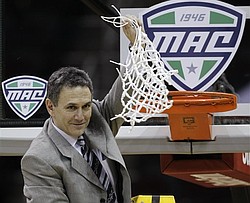 ASSOCIATED PRESS

Photo
Akron coach Keith Dambrot waves the net after Akron won the NCAA college Mid-American Conference championship 66-65 over Kent State in overtime Saturday, March 12, 2011, in Cleveland.
By Elton Alexander
The Plain Dealer
CLEVELAND
If the Big East Conference is the No. 1 conference in the country, one can argue Notre Dame was clearly one of the best teams in the nation.
The Fighting Irish finished second in that meat grinder of a league and will be the Akron Zips' first challenge in the NCAA Tournament on Friday.
The task will be a daunting one.
No. 2 seed Notre Dame ranks No. 10 nationally in assists (16.7 apg). It is 33rd in scoring (76 ppg), 38th in field-goal shooting (46.6 percent) and 76th in rebounding (36.9 rpg).
The only area where Akron (23-12) ranks nationally in the Top 100 is in assists (61st at 14.6 apg).
Despite Akron's size with 7-foot-0 Zeke Marshall, 6-10 Mike Bardo, 6-8 Nik Cvetinovic and 6-6 Brett McKnight, the Zips do not rebound well and struggled in the Mid-American Conference. The Zips were 11th in the 12-team league.
To succeed against the Irish, somehow the Zips have to make their inside presence felt, much as they did in the MAC Tournament championship game against Kent State with 15 blocked shots, including nine from the sophomore Marshall.
Yet even in that game, Akron was outrebounded, 49-45, giving up a whopping 22 offensive boards.
"In a way, it's a nightmare for Notre Dame when you think about it," Akron coach Keith Dambrot said, drawing on as many positives as he could find against the Irish. "How many mid-majors have a 7-foot guy who makes it hard to score around the basket? I'm sure they'd rather play some 15 seeds other than us."
Marshall's defensive numbers in his career show some dominance and a lot of mediocrity. His best game was against Texas A&M as a freshman, with nine rebounds and four blocked shots. But he has not been consistent.
"We're just as big as them if not bigger, because of Zeke," Dambrot said.
Neutralize ND's perimeter size: What makes Notre Dame different is it is a throwback team with a lot of cutting, screening and passing.
"They run a lot of motion offense," Dambrot said. "You want to know something? We haven't seen a motion team all year, which is strange. They may be the most skilled team in the country. They're an eyelash from being a No. 1 seed. But we can get ready for it. We've got enough days."
ND's high shooting percentage is indicative of how well it runs its offense, but making it tougher on the Zips is the Irish size on the perimeter. Forwards Tim Abromaitis and Carleton Scott each are 6-8, and guard Ben Hansbrough is 6-3.
Dambrot said he may have to counter with longer players Quincy Diggs, who is 6-5, and Brett McClanahan, who is 6-3, playing together.
"They're huge at the wings," Dambrot said. "So that presents problems.
"They remind me a lot of Gonzaga [which Akron played in the 2009 NCAA Tournament]. 'It has been an issue because we are small in the backcourt, and small at the small forward."
A major upset task to be sure, but so was Gonzaga, and the Zips led in that game, 52-51, with 9:43 to play before losing, 77-64.
"If we get to the eight-minute mark [leading] with Notre Dame, we've got to believe we can win," Dambrot said.