38 Special Still holding on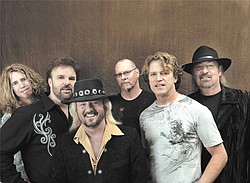 Submitted photo

Photo
IF YOU GO:
Who: 38 Special with Joe Grushecky and the Houserockers
When: 7:30 p.m. Thursday
Where: Packard Music Hall, 1703 Mahoning Ave. NW, Warren.
Tickets: range from $20 to $65; packedhouseproductions.net
By John Benson
Older music fans are going to find it hard to believe that this year marks MTV's 30th anniversary. It seems like only yesterday Martha Quinn and company were playing Kajagoogoo and The Buggles.
One band that's not necessarily associated with the music-video network is rock act 38 Special; however, the group's popular single "Hold On Loosely" is part of that historic day in August 1981 when the music industry changed forever.
"The very first day MTV went on the air, we were like the sixth or seventh video to air," said 38 Special co-founder Don Barnes, calling from Virginia. "If you remember, MTV didn't have any material back then because they were just starting out. So they sent their own camera crews to concerts. They sent a crew out to shoot our show in Denver. I also had to do a couple spots for them saying, 'You'll never hear music the same way again.' At the time, I remember that was odd for me to do that. It's funny when you look back."
Looking back is something the members of 38 Special — also featuring Donnie Van Zant, brother of Lynyrd Skynyrd's Ronnie Van Zant — can do proudly with a catalog of platinum albums ("Wild-Eyed Southern Boys," "Special Forces" and "Tour de Force") and hit singles ("Hold On Loosely," "Rockin' Into the Night," "Caught Up in You," "Fantasy Girl," "If I'd Been the One," "Back Where You Belong," "Chain Lightnin'" and "Second Chance").
If you're looking for a reason why the group's material continues to dominate classic-rock radio, Barnes says it has to do with the songs' catchy melodies and honest lyrics. In fact, one of the group's most notable tunes, "Hold On Loosely," came out of personal strife.
"That song was a good piece of advice that came from a truthful experience," Barnes said. "At the time I wrote it with Jim Peterik from Survivor, I was having trouble in a marriage. I felt like she was trying to keep me under her thumb and I was trying to be somebody. So I was trying to write something that talked about celebrating each other's differences, give each other space to breathe. I took it to Jim. I had this guitar bit and pieces. I said I got the title of 'Hold On Loosely' and he said, 'But don't let go.' That was the other end of the couplet, and were off to the races. We wrote about how you see it all around you how things crumble because people are in a relationship where they don't practice or celebrate differences."
Naturally fans can expect to hear all of the group's hits and other gems such as various soundtrack songs the band contributed over the years in a fun medley. This includes 1984's "Teacher, Teacher" from the movie of the same name and 1987's "Back to Paradise" from "Revenge of the Nerds II."
"We feel like it's more bang for the buck," Barnes said. "When the audience leaves us, they're as exhausted as we are. We just try to bring that party to the people and enjoy the crowd. Hopefully people can see we're one of those bands that stayed together. We still respect each other. We still like each other. It's worked out for us OK. We've found tolerance with each other. It's like being married to six other guys. This band has lasted longer than some of our marriages."
Perhaps that's because the members have, well, um, held on loosely?
"Yeah, that's right," Barnes laughed. "We celebrated our differences. There you go."