Defendant in Ponzi case continues to elude FBI
By Ed Runyan
WARREN
Where's Keelan?
Keelan Harris, 34, a member of the Warren Harding High School class of 1994, hasn't been seen since Oct. 29, 2009, by government officials interested in his role in a $20 million investment scheme.
Ronald E. Helmick, a local FBI agent, spoke with Harris in Youngstown on that date, along with special agents with the IRS and U.S. Department of Homeland Security, but Helmick says Harris "departed the country" soon after the interview.
"I have reason to believe that Keelan Harris is currently in Panama, as he recently purchased an airline ticket to the United States for a flight that would have originated in Panama," Helmick wrote in an affidavit filed by the government Feb. 3, 2011.
Helmick was able to locate Harris in 2009 to talk to him about two investment businesses he and his brother, Kevin L. Harris, had operated out of the former International Brotherhood of Electrical Workers union hall on Parkman Road Northwest in Warren.
A year later, Kevin L. Harris was charged with federal crimes connected with the companies. Simultaneously, the U.S. Commodity Futures Trading Commission filed a federal lawsuit that named Kevin Harris, Keelan Harris, Toronto woman Karen Starr and the owner of a Toronto marketing company as defendants.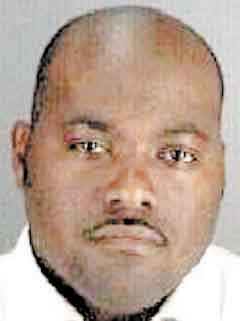 Photo
Kevin Harris, 45, also of Warren, is expected to receive a prison term of about eight years for his role in the scheme when he appears in federal court Tuesday in Cleveland.
Prosecutors said the businesses operated from November 2006 through October 2008, fraudulently soliciting and accepting millions of dollars from hundreds of individuals to open "professionally managed" foreign currency trading accounts.
Federal officials called the businesses a Ponzi scheme, where the money of newer investors was used to pay "fake" profits to earlier investors.
Investors, most from Toronto, Ontario, but some from northern Ohio and elsewhere in the United States, lost amounts such as $50,000 and $134,000, according to lawsuits they filed in Trumbull County Common Pleas Court.
The CFT Commission's complaint alleges that Kevin Harris, Keelan Harris, Karen Starr and the marketing company were involved in the enterprise until 2008, when the scheme collapsed, payouts stopped and lawsuits started being filed.
The CFT Commission's complaint seeks to recover assets that can be returned to defrauded investors and seeks to ban the parties from participating in future investment schemes.
No criminal charges were ever filed against Keelan Harris and Karen Starr.
Starr, of Barrie, Ontario, near Toronto, also cannot be found, authorities have said.
Late last month, Judge David D. Dowd Jr. of U.S. District Court in Akron approved a motion by the government to take an extra step to find Keelan Harris and Karen Starr — publication of a summons in two newspapers.
The summons will tell Keelan Harris and Karen Starr that they are named in a federal lawsuit and need to answer to the complaint.
The notices will be placed in The Vindicator and the Toronto Star once per week for four weeks. They will direct both of them to the CFT Commission's web site, where they will be able to read the lawsuit.
So where is Keelan?
He has had several addresses over the years.
In 2000, his address was on Homewood Avenue in Warren. In 2001, it was on East Avenue in Warren. In 2003, it was 1122 Garden Street NW, Warren. In 2004, he listed an address at a factory in Lewisburg, Pa.
He lived in a federal penitentiary for about 30 months in 2004, 2005 and 2006 after he broke into the Champion License Bureau in 2003 and took equipment used to make driver's licenses.
He has frequently listed his address as being 1036 Parkman Road NW, formerly know as Majestic Enterprises. That is the car-sales and repair shop the Harris family used to operate, now known as Eclipse Automotive Sales and Service. It's next door to the Garden Street address.
While Keelan Harris and his brother were operating Complete Developments and Investment International Inc., Keelan Harris used the business's address, 2430 Parkman Road NW, as his home address.
In 2009, he gave an address at an apartment in Johnstown, Pa.
Dominic Ventura of Toronto, one of the investors who lost money by investing in Complete Developments, says he hopes someone finds Keelan Harris and Karen Starr.
"I think all three are equally responsible for this," Ventura said of the scheme. Kevin was president of Complete Developments, and Keelan was president of Investment International Inc., and both companies were in the same business, Ventura said.
"What they're doing to Kevin, they should do the same thing to Keelan, because he was president of I3 (Investment International Inc.). I'm not a victim of I3; I'm a victim of Complete Developments. But it's the same thing. Both [Kevin and Keelan] had signatory rights to the accounts."
As for Karen Starr, Ventura calls her a "wicked, wicked woman" who lived just 30 minutes away from his home, who has four children and who took numerous phone calls from frightened customers, who begged her to send some of their money back.
"She stole from our families and broke our families," Ventura alleged.
More like this from vindy.com