Their answer to violence? Parents, mentors, community
RELATED: Warren man shot to death on East Side
By JOHN W. GOODWIN JR.
jgoodwin@vindy.com
YOUNGSTOWN
Albert Taylor remembers seeing a Youngstown man blow marijuana smoke in the face of his child to make the child hungry because the boy was sick and did not want to eat.
Panel Discussion Part 1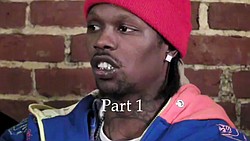 Video
A group of African American males talks about the situation in Youngstown. Part 1
Panel Discussion Part 2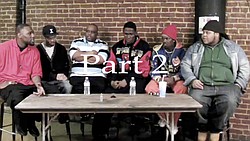 Video
A group of African American males talk about the situation in Younstown. Part 2
Panel Discussion Part 3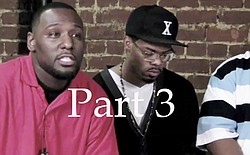 Video
A group of African American males talk about the situation in Youngstown. Part 3
That the father felt it OK to blow marijuana in the direction of his child, who has sickle-cell anemia, demonstrates a difficulty young black people have in raising the next generation.
"I looked at that and I asked, 'When did you stop caring? If the wrong person sees that, your son is gone.' He is trying to make something positive, but it really isn't," said Taylor, adding that is an example of a young person not realizing the consequences of his action.
Taylor, 29, of Youngstown, and five other men sat at a downtown bar this week to discuss recent violence in the city and ways to combat the problem.
Joining him were Keith Love, 23, of Youngstown; Adrian McDowell, 26, of Youngstown; George Washington, 28, of Youngstown; Charles Colvin, 23, of Youngstown; and Maurice Hobard, 35, of Campbell.
Proper guidance is often hard to come by, Washington acknowledged.
"When you are looking for a role model in Youngstown, your options are small."
The men, most associated with the entertainment business, agreed a key element in the level of crime and violence in the city is a severe lack of role models for young, impressionable black males.
Hobard said these young people eventually grow up and see how destructive certain behaviors are. By that time, however, many already are in the criminal-justice system.
"In the 'hood,' you are like a celebrity. Most times you know what you are doing is wrong, but nothing is better when you are young than that rush you get from a pat on the back when you go back to the hood. That state of mind changes when you get older," he said.
All six agreed one way to combat violence and criminal behavior in younger people is to show them people from diverse backgrounds, including some who have been in trouble with the law, so they can tell kids what not to do because they have "been there and done that."
They all said politicians and preachers are simply not enough to get kids to listen.
"A lot of black preachers in the city that have power — they won't come together and do nothing," Hobard said. "Maybe if I saw a person just like me doing something positive and come back as a role model, that's who I am going to listen to. I am not going to listen to some preacher or somebody on TV or some older person telling me what to do. You don't know my life or what I have been through."
The men acknowledge there is another fundamental problem in the black community: a breakdown in the family structure.
"Kids are being born and don't even know who their parents are; they are in foster homes. ... It's going to take a lot. There isn't just one super solution," said Colvin.
Participants in a similar discussion, with five other black males in an offender program at Community Corrections Association in Youngstown, also cited the breakdown in the black family for destructive behavior in young adults.
Participants in that discussion said mentoring has to begin at home with parents willing to make sure kids are up for school, doing homework and staying out of trouble.
They agreed that every member of the community also need needs to teach those kids conflict resolution beyond fighting or picking up a gun.
That group agreed that a return to a time where any member of the community could chastise a child and expect support from that child's parents is essential.
"They [kids] don't have that structure anymore; morals and values are all twisted up," said one man at the CCA discussion who did not want his name to be used. "When I grew up, my mother's friend, if I was swearing, would check me and run that back to my mother, and my mother would handle the situation so that I would know to next time respect elders and be respectful. That carries a lot of weight, and now you don't have that."
Members of the downtown discussion at the Love Lounge on Federal Street said another problem driving the tide of violence among young men, particularly black males, are media images of rap stars and other celebrities.
They say many celebrities portray an image completely different from their actual lives, leading some young people to actually try to live those images.
One of the six men arrested in the off-campus shooting near Youngstown State University in February wears a tattoo stating "Death before Dishonor" across his chest.
Love said the slogan could mean a young black person would die before he dishonored his people. If anything is dishonoring your people, you are not going to put up with that, he added.
Washington, however, said such tattoos are often an example of people attempting to live a street life portrayed by a celebrity who does not actually live that life.
He added those celebrities often become the role models for young men who have no one else to emulate.
The men at the table this week said those media images have to be replaced with diverse members of the community whom kids can respect. They said there really is no set criteria for acting as a role model with these young people other than understanding where they are coming from and living a decent life that young people can observe.
Both discussion groups agreed that the creation of more mentoring programs allowing young males to interact like brothers to younger males would be beneficial.
"I have a bigger influence on kids in Youngstown than any politician in the city of Youngstown," Washington said. "Half the kids know me from my kids or just growing up. ... We [Washington and McDowell] work together to teach kids, but we tell other people that and they [say], 'You're a drug dealer. You're a felon.' Or this and that.
"Well, yes I [was], and I am willing to tell somebody how not to be one," Washington said.
Washington said the ease with which a gun can be obtained in most areas can fuel the mind-set of a young person looking to live out acts of violence portrayed in the media or the streets of his community.
McDowell and Colvin, with the agreement of the other four men at the downtown discussion, said another consideration in stopping violence among younger black people is a taught knowledge of their history.
"All these kids grow up hearing how their slave masters contributed [to American society]. Now the [black] kids have inferiority complexes," said McDowell.
All the men agree that a greater knowledge of history will lead to better feelings of self-worth and a more positive self-image. Colvin said this ultimately will lead to a reduction in criminal activity among young blacks, but it has to start early in life.
"This will have to begin at the preschool level to begin to turn it around," he said. "We know right from wrong, but influence is big."
Most of the men in the group agreed that the history lessons cannot be left up to the schools, agreeing it is imperative to have these lessons reinforced in the community and in the home.
Colvin said one final aspect of changing the course of violence in the city is to give young people something to do with their time — preferably summer jobs where poorer kids can earn extra cash and learn a work ethic.
THE PANEL
Six men with diverse backgrounds sat down at the Love Lounge, a downtown Youngstown bar, to discuss violence among younger black people and possible ways to ease that violence. A brief description of each man involved in the discussion:
Albert Taylor, 29, Youngstown North Side: One-parent upbringing in Westlake Terrace Housing Development. Five sisters. Attended The Rayen School and later received his General Educational Development diploma. Graduated from Youngstown State University in 2007. Run-ins with law enforcement for domestic violence and driving under suspension. Married with two children.
Adrian McDowell, 26, Youngstown North Side: Grew up in single-parent home with three
siblings. Now single with three children but is engaged. Graduate of Chaney High School and Youngstown State University. No prior criminal record. In the entertainment business as a rap artist.
Maurice Hobard, 35, Campbell: Two-parent household upbringing. Graduate of Campbell High School. Three degrees from Youngstown State University. No criminal record. Married with three children. Former gang member. CEO of True 2 Life Entertainment.
Keith Love Jr., 23, Youngstown East Side: Grew up single-parent household and lifelongresident of the city. Graduate of East High School. Single, but has a steady girlfriend. Misdemeanor run-ins with the law for possession of marijuana and drug paraphernalia.
George Washington, 28, Sharon Line section on Youngstown East Side: One-parent household (raised by his father). Attended East High School and The Rayen School before obtaining his GED. Student at Youngstown State University.
Single with four children. Served time at 21 for selling drugs.
Charles Colvin, 23, Youngstown South Side: Raised in a two-parent household. Graduate
of Woodrow Wilson High School. Senior at Youngstown State University. Single with no children. Owner of Starlyfe Entertainment.
More like this from vindy.com