---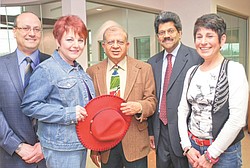 Photo
Looking forward to attending the Cattle Baron's Ball, where they will be honored, are, from left, Dr. Antoine Chahine, Pat Butto, Dr. Sudershan Garg, Dr. Eledath Krishnan and Annette Camacci. Butto and Camacci are cancer survivors, and the doctors are oncologists at the Blood and Cancer Center in Canfield.
BOARDMAN
American Cancer Society has chosen "Denim and Diamonds" as the theme for its fifth annual Cattle Baron's Ball March 26 at Antone's Banquet Centre, 8578 Market St.
Featured from 7 to 11 p.m. at the western-themed event will be gourmet dining, live and silent auctions, music by Joey K, and country western dancers.
The evening will begin with a VIP celebration for honorees and sponsors from 6 to 7 p.m.
Among the honored guests will be cancer survivors Pat Butto, event planner and owner of Party People, and Annette Camacci, quote manager with Tartan Insurance and a community volunteer.
Honored for their contributions to individuals dealing with cancer will be Dr. Sudershan Garg, Dr. Eledath Krishnan and Dr. Antoine Chahine, all from the Blood and Cancer Center in Canfield. Recognized for their commitment to the mission of the ACS will be Kelly Stevens and AC McCullough, both of radio station WHOT-FM.
The ball is made possible through the support of Michael Bruno and Primus Medical, Schwinn Fitness, StairMaster and Star Trac.
Wendy Miller and Carole Weimer, chairwomen for the fundraising event, are being assisted by a volunteer committee.
For more information or tickets, contact Pam Marshall Wilson at the ACS, 888-227-6466, ext. 2207, or e-mail Pamela.marshall@cancer.org.