St. Christine's celebrates Dr. Seuss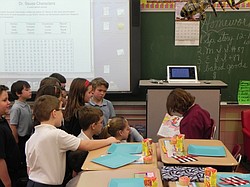 Photo
The students of Wendy DelBoccio's second-grade class began their Dr. Seuss day by reading the author's books to each other.

Photo
The day wasn't complete until the students of Wendy DelBoccio's class placed the iconic white and red hat on their heads during Dr. Seuss day.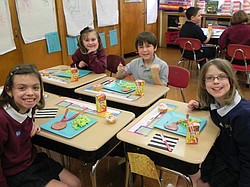 Photo
Unlike the characters in the book "Green Eggs and Ham," Ashley Femia (left), Erika Hankavich, Jacob Mesaros, and Jessica Felleti were all willing to give the colorful food a chance.
By SARAH FOOR
The students at St. Christine School celebrated a big birthday on March 2, but they weren't disappointed in the least when the guest of honor didn't show up.
Students celebrated Dr. Seuss's birthday by sharing his books and praising his singular characters. Wendy DelBoccio's classroom celebrated what would have been Dr. Seuss's 107th birthday with a reading of "Horton Hears a Who" and eating a fun meal of green eggs and ham.
Teachers and parents attended the celebration and considered the unique lessons that the author offered in his books. Visiting DelBoccio's classroom for a lesson, Italian teacher Beth Shutrump told the students about the singularity of Dr. Seuss.
"He is very distinctive in that his books really only make sense in English," she observed. "How Dr. Seuss made up words and played with the English language makes his books very different in Italian."
DelBoccio also appreciated the gifts that Dr. Seuss gives her students.
"Seuss teaches rhyme, punctuation, the use of letters in books like 'ABC,' and never shies away from bright color," DelBoccio said of the author.
"But I love most of all that he teaches his readers to always express themselves and to follow the beat of their own drummer. It's a lot of learning disguised in a lot of fun."
Seuss's creativity was contagious to students like Sean Phillips.
"Dr. Seuss made up lots of words, why can't I?" Phillips said during his breakfast. "I'll call my meal of green eggs and ham 'heggs' from now on."
More like this from vindy.com