Harding advances to district title game in Div. I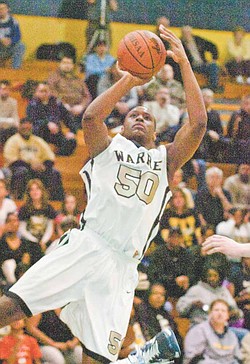 Special to the Vindicator

Photo
Mik'Quan Dorsey evades the defense of St. Ignatius as he times a jump shot, Thursday, March 10, 2011 at Solon High School.
Division I
Boys
Harding 55
ST. Ignatius 47
Next: Warren Harding vs. Garfield Heights, Saturday, 2:30 p.m., at Solon High School.
By Jon Moffett
SOLON
Steve Arnold looked all around the locker room for something made out of wood. A table, door, chair. Anything.
But he could find nothing. So he opted for the next best thing as he stood near the showers.
Knock on tile.
Arnold joked that his Warren Harding High basketball team has been able to get by without the entire team completely in synch. The team's overall talent has enabled them to avoid some close scares and end the seasons for some quality teams.
One of those wins came Thursday night as Warren Harding was able to hold off Cleveland St. Ignatius 55-47 in a Division I district semifinal game at Solon High.
Senior guard Tre' Brown led the Raiders (18-4) with 17 points and was consistent as always. And Arnold said as long as the team gets good play out of two of its three post players good things will happen.
Hopefully. So knock on, uh, tile.
"That's when we're at our best is when we have balance," Arnold said. "Tre' leads us and we didn't have a great game out of [forward] Craig [McFerrin] but we were still able to come away with the victory. Usually, knock on wood if there is any wood in here, we have two out of our three post players that play well. And Rashid [Gaston] and Shaheed [Davis] played well tonight."
Davis was second on the team with 13 points and Gaston added 10. McFerrin had only two points due to early foul trouble.
The entire Raiders team was in trouble early. After climbing out to a 16-11 lead in the first quarter, the Raiders watched as the Wildcats (13-10) reversed the fortunes and flip-flopped the scoring. The teams were tied at 27 at the half.
Arnold said it was just a matter of both teams being so familiar with each other.
"They know what we're going to do, and we knew what they were going to do. It was just a matter of what little wrinkle did [St. Ignatius coach Sean O'Toole] put in, and what little wrinkle did we put in," he said. "We were sort of testing the waters, but both teams were playing hard."
The Raiders scored 28 second-half points to 20 by St. Ignatius. Brown and Gaston each scored 11 of their points in the second half.
Brown said there is no love lost between the two teams and the Raiders were looking for revenge.
"We had to come out here and get this win tonight because they beat us pretty bad during the regular season and they beat us the last two years in a row," he said. "So Coach Arnold told us this was a revenge game. We all took it to heart and gave it our all."
Things got a little chippy for the squads late. With Harding up 41-33 with 6:35 to go in the game, McFerrin and St. Ignatius' Mason Halter got into it a bit. McFerrin shoved Halter out of the way and earned a technical to pick up his fourth foul.
The Wildcats made both free throws to bring them within six. From then on, it was the Raiders trying to milk the clock.
Arnold said teams pick up the intensity in the tournament and emotions are always running high.
"You see the difference in the intensity even from the regular season," he said. "Every tournament game that we've scouted, you just see kids diving on the floor, hustling, bleeding. These kids just don't want their season to end, and that's what we tell these kids."