GM chief financial officer resigns unexpectedly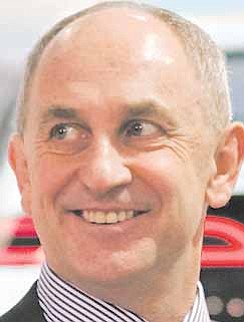 ASSOCIATED PRESS

Photo
In this March 13, 2010 photo provided by General Motors Co. (then) Vice Chariman and CFO Chris Liddell attends the New York International Auto Show in New York. General Motors Co. said Thursday, March 10, 2011, Liddell will step down as of April 1.
Associated Press
DETROIT
The chief financial officer who guided General Motors Co. to its first profitable year since 2004 and led its successful return to the stock market is leaving after being passed over for the top job.
Chris Liddell will step down April 1 after just 15 months at GM. He'll be replaced by Treasurer Dan Ammann, a former Wall Street banker, the company said in a surprise announcement Thursday.
Liddell, 52, a former CFO at Microsoft Corp., was once considered a candidate to succeed Chief Executive Ed Whitacre. But GM's board instead picked current Chairman and CEO Dan Akerson when Whitacre made a surprise exit in August.
During a hastily arranged conference call with reporters, Liddell said he had no job lined up but doesn't want to be a chief financial officer any longer. He said he achieved his goals of pulling off GM's IPO, fixing its accounting problems and getting the company back on sound financial footing.
Akerson, 62, has said his stay at GM would not be short but hasn't given details. For Liddell, that could mean years before he gets a second shot at the top job.
The move is the latest executive shake-up at GM, which emerged from bankruptcy protection in July of 2009. The company has had four CEOs in less than two years and an equal number of CFOs. Within the past year it has changed top executives in marketing, product development and other areas.
More like this from vindy.com