East High students blanket Youngstown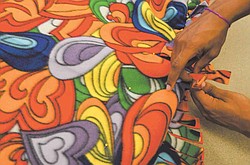 The Vindicator (Youngstown)

Photo
Steven Russ, 17, a junior on East High School's Destination Imagination team finishes at fleece blanket which will be donated to the Salvation Army.
By Denise Dick
YOUNGSTOWN
A group of students at East High School is warming up the community.
Through a project the students call Blanketing Youngstown, freshmen Tamesha Boyd, 14, and Jaylynn Powell, 15; juniors Lance Moodie and Steven Russ, both 17, and senior Ladonna Sims, 18, make fleece blankets daily after school.
"It's for people who are less fortunate than we are," Steven explained. "It's to show them that there are people out there who are thinking about them and who want to help them."
The project is part of a Destination Imagination program that the students will present at the regional competition March 19 at Youngstown State University.
Jeanne Constantino, the school's DI team manager, said the team is entered in a challenge called Dynamic Networks.
"They had to find a community need and try to address it," she said.
Team members identified warmth and decided to make blankets and give them to children at Akron Children's Hospital, homeless people and students and adults in group homes.
They raised money for the project by selling wooden roses, spritzed with rose oil during lunch for both Sweetest Day and Valentine's Day. Additional money to buy the material came through a grant.
Constantino estimated that each full-size blanket costs between $40 and $46 to make because the fleece material is expensive.
The students delivered a batch of the blankets to Akron Children's Hospital and plan to deliver more to the Salvation Army.
"We want the people to have something that is their own," said Mary Ruthrauff, who is helping with the project.
The project started in October, and the students have made more than 100 blankets, Constantino said.
Ladonna hopes that the recipients of the blankets appreciate them and that they get warmth from it.
Lance said he wants people who get the blankets to know that they are appreciated and that they are loved.
Jaylynn likes the idea that she is giving to the community, and Tamesha hopes that the group's creations keep people warm.
For the competition, the students keep a notebook documenting their project and outlining its progress. They'll give a presentation to the judges as well.
Jaylynn said their presentation is a skit. She portrays a homeless person in a wheelchair who is cold. Lance and Steven give her a blanket.
"That's to symbolize helping someone in need," Lance said.
The students will sing a song as part of the skit to the tune of "We Are the World." They changed the words to summarize their project: "We see the need. We have the warmth. We are the ones who give the blankets."
After they gave the donation to the hospital, the students received a letter, thanking them and expressing a wish for more.
"We want the project to be continuous," Constantino said. "As long as we can raise the money to buy the materials, we're going to keep making blankets."
More like this from vindy.com