Poland uses grit to oust Streetsboro in Div. II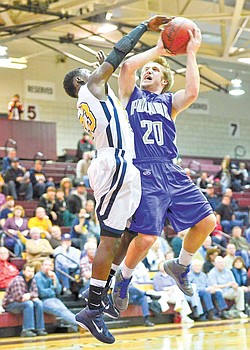 The Vindicator (Youngstown)

Photo
Poland's Jerry Lawman is fouled on the way to the hoop by Streetsboro's Edward Julian Wednesday night at Boardman High School.
DIVISION II
BOYS
POLAND 49
STREETSBORO 47
Next: Poland vs. Struthers, Saturday, 6 p.m., at Boardman High
By Jon Moffett
BOARDMAN
Ken Grisdale heaped plenty of praise on his Poland High basketball team after defeating Streetsboro in a Division II district semifinal game. Among those compliments was one directed at Jerry Lawman.
Grisdale said Lawman, a junior, is a coach's dream and he literally would run through a wall if it meant his team would win. And he aimed to prove it.
"If you told Jerry to run through that wall, he would do it," Grisdale said. "You wanna see? Tell him to run through the wall and watch, he'll take a step or two toward it."
Sure enough, Grisdale put his experiment to the test.
And sure enough, Lawman took a few steps before he realized what his orders were and stopped.
That's just how Lawman plays. And he was instrumental in the Bulldog's 49-47 win against Streetsboro at Boardman on Wednesday night. Lawman had 12 points, 10 rebounds, three steals and three assists.
But it was the contributions not seen on the stat sheet that had Grisdale beaming.
"He's a coach's dream. He just plays so hard," Grisdale said of Lawman. "He's a 4.0 student and is in the National Honor Society. The problem is he lacks the common sense of anybody, so that's why he's so crazy."
Lawman shrugged it all off and said he just plays tough. The whole team does, too.
"It feels great because people just weren't expecting us to make it this far I don't think," he said. "We don't have as much talent as we did last year, but we play as hard as we can. Our execution isn't that great, but our hustle makes up for it."
The bigger, stronger and faster Rockets (16-6) just couldn't find a way to combat the heart of the Bulldogs (17-5). Grisdale said it often comes down to will over talent.
"I don't know if I've ever had a team that is just so determined. We are not very talented, but we are very determined," he said. "And that's a lesson in life for everybody. You don't have to be the best looking or the most talented. You just have to work hard."
Colin Reardon also had a good night for the Bulldogs, leading all scorers with 21 points. He gave Poland some breathing room by getting to the foul line seven times. He made six of the free throws.
The Rockets fizzled at the line. Coach Nick Marcini said his team shot 70 percent from the line during the season. But the past few games have told another story. The Rockets were just 5-of-13 from the line against Poland.
"It's very uncharacteristic of us," he said.
Streetsboro's best player, junior Ben Gency, played through a broken thumb. But the 6-foot-5 post player still managed to score 20 points. Marcini said the team had no excuses for its outing and started to take bad shots because of the Poland pressure.
"We relied on that outside shot that wasn't falling tonight," he said.
Lawman said playing a team like Streetsboro will hopefully help them against Struthers, which beat Poland 97-57 on Feb. 2. The Bulldogs and Wildcats will fight for the district crown on Saturday.
"They've got some bigger bodies than us, but that just motivates us to work harder than them and just get it done," he said.
More like this from vindy.com