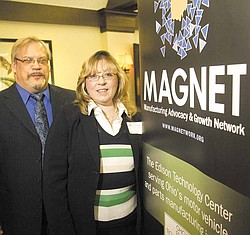 The Vindicator (Youngstown)

Photo
Jim Courim, left, training coordinator at Severstal Warren, and Becky Kemp, a consultant with the Manufacturing Advocacy and Growth Network, spoke Wednesday at the Trumbull Country Club during a Youngstown/Warren Regional Chamber event. Kemp will operate MAGNET's new office, which opened in the Chamber's Warren location. Kemp cited the organization's work with Severstal Warren as an example of MAGNET's plans for assisting companies in the Mahoning Valley.
WARREN
The Manufacturing Advocacy and Growth Network cited its work with Severstal Warren as an example of its plans for assisting other Mahoning Valley manufacturers during a reception at Trumbull Country Club.
The Youngstown/Warren Regional Chamber sponsored Wednesday's reception, which was scheduled to celebrate MAGNET's new office inside the chamber's Warren location at 197 W. Market St.
Becky Kemp, the MAGNET consultant who will be staffing the Warren office, said the organization began working with Severstal Warren in 2006 when the company was still known as WCI Steel.
At that time, United Steelworkers of America Local 1375 had established an agreement with WCI Steel to reduce 20 job descriptions for its unionized maintenance workers down to two: mechanical and electrical.
WCI worked with MAGNET to develop training programs for the new job descriptions.
"In order to develop the training program, we needed to capture the skills involved in each position," Kemp said.
Kemp said MAGNET developed individual training plans for 350 workers.
In 2008, Russian steel company OAO Severstal bought WCI Steel, and the mill became known as Severstal Warren. The new management kept the training programs MAGNET had developed for the company.
Severstal recently was sold back to its previous owner, New York-based The Renco Group, which had lost the mill to bankruptcy five years ago.
Because the average age of workers at Severstal Warren is 57.4 years, Kemp said the original training process also was used for knowledge to help train new employees.
In establishing the training programs, MAGNET used a process called lean manufacturing.
"A lot of workers equate this term with [a company saying] 'We're getting rid of people.' That's not what that term means," Kemp said.
Kemp said the program used at Severstal Warren streamlined production processes and cross-trained workers to make them more efficient. "Our lean initiative is not top-down; it's bottom-up," said Jim Courim, a union member and training coordinator at Severstal Warren.
Courim said MAGNET left Severstal Warren with the skills to review and sustain the training programs.
"No consultant does their client a service without leaving them with the tools to carry on," Kemp added.
Dan Berry, president and CEO of MAGNET, said the organization follows three steps in helping manufacturers grow their operations and remain competitive. It offers consulting services. Through training and outreach programs, it ensures companies have the talent base for future growth, and it works with partners in advancing manufacturing.