House of Hope awaits decision on its future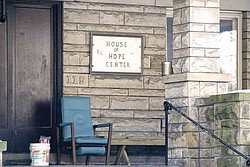 The Vindicator (Youngstown)

Photo
The House of Hope, 115 Illinois Ave., Youngstown.
YOUNGSTOWN
The Ohio Department of Health brought its request to close a North Side home for mentally ill adults to Mahoning County Common Pleas Court, but the home's lawyer argued the department has given no valid reason for closing the facility.
Citing "the continuing real and present danger that exists at House of Hope," Lisa M. Eschbacher, an assistant Ohio attorney general representing the state health department, asked Magistrate Daniel P. Dascenzo to issue a preliminary injunction to close the house.
At ODH's request, Dascenzo issued a temporary restraining order Feb. 23, barring the House of Hope from admitting new residents or reducing staff without his permission. Dascenzo said he expects to issue his decision on the state's request for a preliminary injunction early next week.
ODH representatives found "a real and present danger" to residents' safety and security in several inspections after an HOH resident was found unresponsive in a bathtub there and pronounced dead at a local hospital Nov. 11, Eschbacher said in her opening statement in a Wednesday hearing on her request for the injunction.
The state's request to close the House of Hope, 115 Illinois Ave., and relocate its 43 residents is based on alleged safety violations, including improper fire-safety measures concerning cigarette smoking by residents.
However, James J. Leo of Galena, HOH's lawyer, said "real and present danger" means "an imminent danger of serious physical or life-threatening harm." The state's motion for the injunction doesn't specify any "imminent danger" and doesn't specifically attribute fault to HOH in the resident's death, Leo said.
The fact that residents sometimes smoke where they shouldn't "cannot be grounds for closing down a residential care facility," Leo said, adding that HOH does its best to correct those violations.
The facility "exists to assist the mentally ill" and "to provide a home for those people who truly cannot provide a home for themselves," Leo said, adding that many of HOH's residents are "likely to become homeless" if facilities such as HOH are not available.
Leo attached to a Wednesday court filing an affidavit from Dr. Brian Sullivan, a psychiatrist at Turning Point Counseling, who treats HOH residents, who said: "Closing HOH would be a disaster for many of my patients who have lived there for years."
With only a few licensed beds in the county available for the population HOH serves, Turning Point case managers "would not be able to find an appropriate alternative for people displaced from HOH," Dr. Sullivan concluded.
More like this from vindy.com