Austintown robotics team swings into action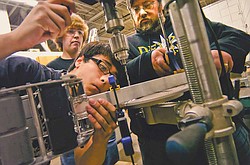 Special to the Vindicator

Photo
Fitch High School junior Paul O'Connor lines up a drill press to make holes for a mounting bracket in the control arm of the school's robot. Assisting are club adviser Mike Gillman, right, and freshman Zack While.
AUSTINTOWN
In just six weeks, the Austintown robotics club designed and built a 120-pound robot to send to competition.
Was it enough time?
"No," said assistant team leader Mike Mellot. "Absolutely not."
But time constraints are all part of the challenge in FIRST, a national robotics program — For Inspiration and Recognition of Science and Technology.
Students in the club took their robot, named Talon-Bravo after the Fitch High School's falcon mascot, for a final spin Feb. 22 before it was sealed in a plastic bag until the big day according to competition rules.
"It's a beast," said junior Paul O'Connor.
Fitch's team is one of about 50 that will take part in a regional competition today through Saturday in Pittsburgh.
Team leader Ric Zimmerman said money is the biggest hurdle for the group, which collected $17,000 through fundraisers and grants to go to competition. It cost $5,000 for the basic robot kit and to compete in one competition. Extra parts add up to a few thousand dollars. The group paid an additional $4,000 to compete in an April competition in Cleveland this year.
Zimmerman said they'll figure out a way to raise money should they advance to the next stage of the competition.
This year's challenge was to build a robot that can retrieve inner tubes and hang them on hooks 9 feet in the air.
The robot is 38 inches by 28 inches by 60 inches. It can reach speeds up to 12 feet per second and can be programmed to operate on its own.
The bonus challenge is to build a smaller robot that will launch from the host robot at the end of the 1-minute-and-45-second inner-tube challenge and climb a 12-foot pole. Competing schools have designed climbing robots that scale the pole in just 4 seconds.
Last year was the first for Austintown's robotics club, which had just eight members. There are 20 students this year who meet after school and on weekends. Zimmerman said the group is diverse with several girls, members of sports teams and band and about 10 freshmen.
Some students have logged upward of 100 hours since starting on this year's robot Jan. 8, and parents and group leaders take turns bringing pizza or fast food to keep them going.
With so many people trying to work together on the same project, O'Connor said things can get annoying, but one of the foundations of robotics groups is teamwork.
"Gracious professionalism," Zimmerman said; that's the motto employed by FIRST.
Senior Perry Toth said that mentality was most evident at last year's competition when the team asked its competitors for spare parts at the last minute. Toth said other teams were happy to help.
"You want to win, but you have to help each other out," he said.
Toth drove last year's robot Talon-Alpha, which was designed to kick soccer balls over mounds and into a goal.
"It was crazy and stressful and everything," he said. "The whole competition was so fast-paced."
Aside from teamwork, Zimmerman said the club teaches students necessary skills for related work fields.
"For kids in today's job market, this is where it's at. This is what's needed," he said.
Zimmerman said he hopes the district can one day add a robotics course to the curriculum.
"It gets kids involved in what they haven't been in," he said.
More like this from vindy.com