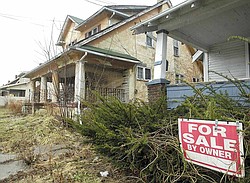 The Vindicator (Youngstown)

Photo
This abandoned house in Youngstown is on Avondale Avenue. Youngstown's population declined by 18.4 percent between 2000 and 2010, according to the U.S. Census Bureau. The city had the largest decline of any of the state's largest 25 cities between 2000 and 2010.
YOUNGSTOWN
Census numbers
Youngstown has seen a large decrease in population since
the 2000 census:
2000 census
Population: 82,026
White: 41,737 (50.9%)
Black: 35,937 (43.8%)
2010 census
Population: 66,982 total
White: 31,508 (47%)
Black: 30,257 (45.2%)
Population decrease: –18.3%
Source: U.S. Census Bureau
YOUNGSTOWN
Youngstown's population declined by 18.4 percent between 2000 and 2010, the U.S. Census Bureau reported Wednesday.
Mayor Jay Williams can't come up with an explanation as to why.
"Wow" was his initial reaction.
"I find it shocking," Williams said. "That's a big, big surprise. It's so hard to
accept. I'm trying to find a rational reason why there would be such a decline. At this point, I'm unable to connect the dots to support or explain such a steep decline. It would almost cause me to question the actual count."
The decline leaves the city's population at 66,982. Its population in 2000 was 82,026. That's a loss of 15,044 people.
City officials had said before the numbers were released Wednesday that it was almost impossible for Youngstown in the latest census to lose more than the 14.9 percent decline in population it experienced between 1990 and 2000.
But it did.
"It definitely seems extreme," said Bill D'Avignon, director of the city's community development agency. "It's more extreme than we had anticipated."
The sharp decline didn't surprise Thomas Finnerty,
associate director of Youngs-town State University's Center for Urban and Regional Studies.
"We thought it would be between 65,000 and 70,000," he said. "The reason for the decline is economics. There are no jobs here, and more people are dying than being born."
Though the city's business climate has somewhat improved, Finnerty said the number of jobs in the area is less than it was a decade ago.
Youngstown is now the state's ninth most populous city with Canton surpassing it in this census. Youngstown was the eighth-largest city in the 2000 census.
In 1990, not exactly a thriving time in Youngstown, the city's population was 95,732.
The 14.9 percent decline in population from 1990 to 2000 also was the most among the state's 25 most populated cities.
The news wasn't much better for Warren.
The city lost 11.3 percent, or 5,275 residents between 2000 and 2010, according to the census.
City officials have known for a while that Warren needed to be "right-sized" to account for the lower population numbers, Mayor Michael O'Brien said. "It gives us an opportunity to reinvent ourselves," he said, noting that one thing the city will be able to do is increase green space.
Besides Cuyahoga County, which lost 8.8 percent of its population, Mahoning and Trumbull counties saw the second- and third-highest declines in percentage of population among the state's 20 most populated counties.
Overall, 37,770 people, 6.4 percent, have left Mahoning, Trumbull and Columbiana counties from 2000 to last year, according to the census.
There are now 556,976 people in the Mahoning Valley compared to 594,746 in 2000.
The population in Mahoning County dropped by 7.3 percent from 257,555 in 2000 to 238,823 in 2010. That's a loss of 18,732 with an overwhelming majority leaving Youngstown.
Even with the loss, Mahoning remained the 10th most populous county in Ohio.
"I believe we never fully recovered from the mill closings" in the 1970s, said Mahoning County Commissioner Carol Rimedio-Righetti of Youngstown. "Now I believe we're doing stuff where we're trying to get companies here in the Valley. More technical jobs are coming back, but it's not going to happen overnight."
TRUMBULL COUNTY
Trumbull County's population declined by 6.6 percent from 225,116 in 2000 to 210,312 in 2010. That's a loss of 14,804 residents over the decade.
Trumbull dropped from the 12th most populated county to 13th, with Warren County moving in front of it.
The job losses experienced over the past decade, especially in manufacturing, account for much of the population decrease, said Trumbull County Commissioner Paul Heltzel.
"I think it's also a reflection of the young people leaving the area because they cannot find beginning employment," he said.
COLUMBIANA COUNTY
Columbiana County's population declined by 3.8 percent from 112,075 in 2000 to 107,841 in 2010. Overall, the county lost 4,234 residents over the decade.
Columbiana was the 22nd most populated county in 2000. It dropped to 25th with this census.
Contributors: Ed Runyan, Kristine Gill
More like this from vindy.com