---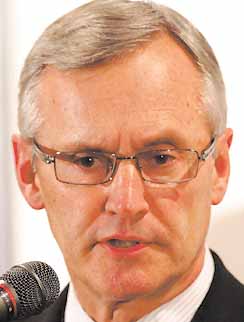 Photo
ASSOCIATED PRESS
Ohio State coach Jim Tressel talks with members of the media during an NCAA college football news conference, Tuesday, March 8, 2011, in Columbus, Ohio.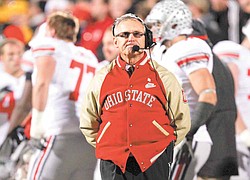 ASSOCIATED PRESS

Photo
FILE - In this Nov. 20, 2010 file photo, Ohio State football coach Jim Tressel looks on during the second half of an NCAA college football game against Iowa in Iowa City, Iowa. Ohio State athletic director Gene Smith has returned to campus and a news conference has been called for Tuesday night, March 8, 2011, signs that coach Tressel's job might be in jeopardy after a report that he did not tell his superiors that he was aware of potential NCAA violations involving star quarterback Terrelle Pryor and others.
Buckeyes football coach apologizes for violations
Associated Press
COLUMBUS
Ohio State suspended football coach Jim Tressel for two games and fined him $250,000 for violating NCAA rules by failing to notify the school about information he received involving two players and questionable activities involving Buckeye memorabilia.
Tressel also will receive a public reprimand and must make a public apology.
"Wherever we end up, Jim Tressel is our football coach," athletic director Gene Smith said at a news conference Tuesday night. "He is our coach, and we trust him implicitly."
Last December, the NCAA suspended five players, including quarterback Terrelle Pryor, for the first five games of the 2011 season for selling items such as jerseys and championship rings to Edward Rife, who owns Fine Line Ink Tattoos in Columbus.
Ohio State says it "became aware of this situation on Jan. 13, while reviewing information on an unrelated legal issue."
Smith has said the local U.S. Attorney's office on Dec. 7 alerted the school that some of its players were selling memorabilia. Soon after, the school opened an investigation and informed the NCAA of the possible rules violations.
Ohio State said in a release that it submitted a report to the NCAA that Tressel "violated provisions of NCAA Bylaw 10.1."
"I am sorry and disappointed this happened. At the time the situation occurred, I thought I was doing the right thing," Tressel said in a statement. "I understand my responsibility to represent Ohio State and the game of football. I apologize to any and all of the people I have let down. I will grow from this experience."
Smith returned to campus Tuesday, skipping meetings with TV network officials in New York about this year's NCAA men's basketball tournament.
, to address the brewing controversy involving Tressel, who is 106-22 in his 10 years as coach of the Buckeyes. Smith is the chairman of the NCAA's Division I men's basketball committee which selects, seeds and brackets the teams.