If levies fail, cuts may come in Poland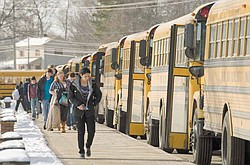 The Vindicator (Youngstown)

Photo
Students at Poland Seminary High School board their school buses after their 3:03 p.m. dismissal from classes.
LEVY FACTS
The basics on the May school levies, including salary figures and benefits:
4.9-mill emergency levy would cost the owner of a $100,000 home $149.65 a YEAR and generate $1.875 million annually for five years. November's 3.9-mill levy failed 3,943 to 3,198.
3.6-mill renewal emergency levy to generate $1,369,748 annually for five years. Originally passed in 2003.
Average teacher salary: $57,705
Average administrator salary: $75,244
Health-care contributions: Employee pays 5 percent of premium, and employer pays 95 percent.
Retirement contributions: Employee pays 10 percent of salary, and employer pays
14 percent.
Town Hall Meetings
All meetings begin at 7 p.m.
March 10, North Elementary
March 16, Union Elementary
March 23, Poland Middle School/McKinley
Apr. 6, Dobbins Elementary
Apr. 13, Poland Seminary High School
Source: Poland Local Schools,
Mahoning County Board of Elections
By Karl Henkel
POLAND
Poland school district is trying to make sure its budget is in good shape for the next few years, not by ending collective bargaining as proposed by some state legislators but with an emergency levy.
On the ballot in May will be a 4.9-mill levy that, if implemented, would generate $1.875 million per year for five years at the cost of $150 per year for a home valued at $100,000.
But is the levy at its current millage (higher than the 3.9-mill emergency levy that was defeated by 745 votes in November) an absolute necessity?
Robert Shovlin, the lone school-board member to vote against putting the 4.9-mill levy on the ballot, said he still disagrees with the increased levy.
"I haven't changed, and I won't change," he said, citing the still-to-be- determined budget of Gov. John Kasich.
One area Shovlin said eventually could be decreased to help combat the cost of the levy is teachers' expenses.
Poland schools employees still received 1.25 percent raises this year. The total amount spent on personnel decreased due to cutbacks, which most recently included Joan Schmitzer, high school English teacher.
Elinor Zedaker, school board president, said pay increases were determined at earlier dates and that both sides of the table, the district and union, will have to work together under "these new circumstances," citing the economic climate.
The average teacher salary at Poland is $57,705. The average administrator salary is $75,244.
Budgeted retirement (employee pays 10 percent of salary to State Teachers Retirement System; employer pays 14 percent) and insurance benefits (employee pays 5 percent of premium; employer pays 95 percent) are allotted roughly $380,000 more this year than in 2010.
In the meantime, Superintendent Robert Zorn says the district is seeking a wage freeze.
The three-year collective bargaining agreement ends this summer; a teachers union representative did not return calls or e-mails seeking comment.
Zorn said if the emergency levy doesn't pass, tough cuts could be on the horizon, including the busing cutbacks, pay-to-play athletics, fewer electives at all grade levels and potential teacher layoffs.
He said the district may have to cut back to the state minimum — busing for elementary and middle school students only if they live more than 2 miles from school — if the levy fails. He said the measure will save the district approximately $100,000. It also will mean lesser workloads for 25 busing employees, who cost the district $311,434 per year — about 1 percent of Poland's approximately $24 million budget.
Also on the horizon: pay-to-play athletics, which Zorn said if implemented, will cost $200 per student, per sport.
"It won't be any less," he said. "The last time we did this in 2003, we were looking at $300 or $400."
Among the other possible cuts: the elimination of one foreign language from the high school, cutbacks in art, music and physical education classes at the elementary levels, and the elimination of all-day kindergarten.
The district hasn't replaced seven teachers in the past seven years and as recently as January put a spending freeze on nearly everything, from purchasing new texts, equipment and library books to tutors.
"We're in support of passing the levy," said Melissa Kellgren, PTO president at North Elementary. "We would hate to see the losses if the levy didn't pass."
Poland's spending — in comparison with other local districts — is moderate, according to information verified by the Mahoning County Auditor in June. Poland ranks ninth out of 14 districts in operating tax millages and ninth in expenditures per pupil, based on 2009 statistics.
"You're getting first-class results with ninth-place spending," Zorn said.
Poland's last levy, at 6.9 mills, was scheduled to last five years in 2003, but the funding was stretched an additional three years, he explained.
Poland schools is having several town-hall meetings about the levies. The first is set for 7 p.m. Thursday at North Elementary.