Campbell, Ursuline set for Round 4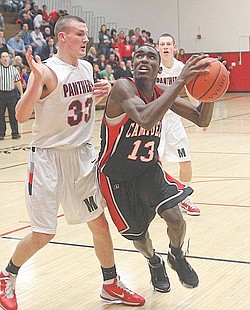 Special to the Vindicator

Photo
Campbell Memorial's Dwaylon Letlo (13) drives to the basket as Mark Noble of Manchester defends during Tuesday's Division III district semifinal at Salem High School. Campbell won 49-45.
CAMPBELL 49
MANCHESTER 45
Next: Campbell Memorial vs. Ursuline, Friday, 7 p.m., at Salem High School.
URSULINE 61
ROOTSTOWN 45
By Joe Scalzo
SALEM
Campbell High boys basketball coach Brian Danilov stood outside the locker room Tuesday night accepting congratulations from dozens of people after the Red Devils' best performance of the season, a 49-45 upset of top-seeded Akron Manchester in the Division III district semifinals at Salem High School.
"You put it all together," one fan said.
"'Bout freaking time," Danilov said, laughing.
Just over a month ago, the Red Devils looked like a team headed for an early tournament exit. They were 4-9, they were missing two suspended starters and the only way they were going to see Ursuline in the district final was by buying tickets.
"The light bulb comes on at different times for everybody," said Danilov, whose team will play the Irish in Friday's district final for the fourth time since 2006. "I just hope it's on and not flickering."
Two hours later, Ursuline coach Keith Gunther stood outside his locker room after a 61-45 win over Rootstown and couldn't conceal his excitement about the next game.
"I'm sure there's nobody else he'd rather play," Gunther said of Danilov. "And there's nobody else we'd rather play.
"It's been the greatest rivalry at Salem in the past years and nobody can doubt that."
Ursuline beat the Red Devils in 2006 and 2008, while Campbell won an epic 2007 matchup and also beat Waterloo in the 2009 district final. The district finals are the lone matchups during the year for the programs, since the schools no longer schedule each other due to angry feelings over a Campbell baseball player transferring to Ursuline a few years back.
Danilov, who doesn't like the no-play policy, said he wanted to play Ursuline.
"They've got a solid team, though," he said. "They really do."
He said the same about a Manchester team that came in with a 19-2 record, with the two losses to Division I powerhouse Canton Timken. The teams played even in the first half before the Red Devils finally inched ahead, taking a four-point lead entering the fourth.
Campbell (12-11) led by eight with 90 seconds left before Manchester cut it to two, 47-45, with eight seconds left. Claxton LeBron then hit two free throws to seal it.
"Missed opportunities," said Panthers coach Gene Schindewolf. "Had about four or five layups that we missed."
In the nightcap, Rootstown (11-12) gave Ursuline all it could handle in the first half and trailed by just three, 29-26, early in the third. Then the Irish unleashed an 18-2 run to end the suspense.
"We played a great second half against a team that was really well-coached, that had nowhere near the athleticism we had but played really smart," said Gunther.
DeVonte Jenkins had 21 points — including three dunks — and seven rebounds to lead the Irish (14-6), who had four starters in double figures.
"We can't guard Jenkins," Rootstown coach Andy Vlajkovich said. "You can bring doubles, you can bring five guys. But he's just jumping over five 5-9 guys."
Andrew Mazur had 11 points and Josh Lane added eight with four rebounds and four assists for the Rovers.
"He's a leader, he's tough and he would play a ton of minutes for us," Gunther said of Lane. "He's the best player on their team and most people don't realize it."
More like this from vindy.com