US negotiating security deal with Afghans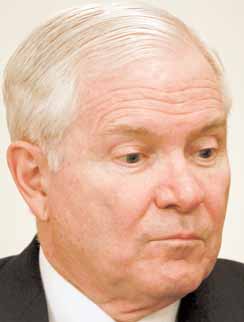 Photo
ASSOCIATED PRESS
US Defense Secretary Robert Gates speaks during a joint press conference with Afghan President Hamid Karzai, unseen, at the presidential palace in Kabul, Afghanistan, Monday, March, 7, 2011. Gates said that both the U.S. and Afghan governments agree the American military should remain involved in Afghanistan after the planned 2014 end of combat operations to help train and advise Afghan forces.
Associated Press
KABUL
The United States is beginning to decide what its responsibilities will be in Afghanistan after U.S. combat troops leave, Defense Secretary Robert Gates said Monday, but he ruled out permanent military bases in the strategically important country.
President Hamid Karzai wants U.S. military support even as he heavily criticizes the current U.S.-led military campaign for being too quick on the trigger. Nine Afghan boys died in an accidental air strike last week, reopening a raw issue.
Gates said the U.S. is interested in keeping a military presence in this former al-Qaida haven beyond the planned end of combat in three years. At a news conference with Karzai, Gates said a team of U.S. officials would arrive here next week to begin negotiations over a new compact for U.S.-Afghan security relations after 2014, when all international combat forces are supposed to be gone. U.S. forces have been in Afghanistan since 2001, and President Barack Obama repeatedly has said the war is not open-ended.
The Pentagon chief also said the U.S. and its allies will be "well positioned" to begin withdrawing forces in July this year, although he gave no specifics. The withdrawal would continue through 2014, with Afghan forces gradually taking over the fight against the Taliban-led insurgency.
Gates' promise to draft a post-2014 "strategic partnership" with this poor, unstable nation is meant to reassure the mercurial Karzai, who fears that he and the country's fragile civilian government might be overthrown without U.S. military backing. It is not clear how far-reaching or binding the document would be.
Vexing questions remain about whether Kabul will be ready to govern by 2015 and prevent a return to extremist Taliban rule.
More like this from vindy.com