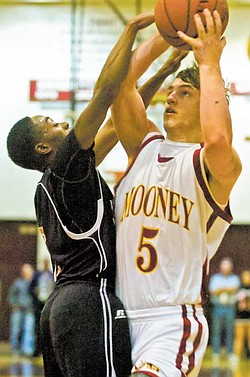 Special to the Vindicator

Photo
Cardinal Mooney's Kevin McGuire (5) attempts a shot against the defense of Struthers' Ja'Meire Brown (5) during Northeast Division II Sectionals, Monday, March 7, 2011 at Boardman High School.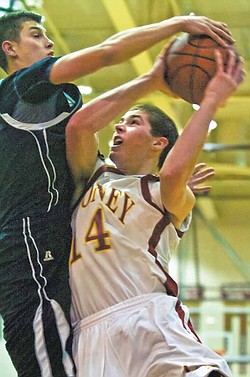 Special to the Vindicator

Photo
Struthers' Jake Jacubec blocks an attempt by Mooney's Ryan Farragher (14) during Monday's tournament game.
STRUTHERS 57
MOONEY 35
Next: Struthers vs. Poland or Streetsboro at Boardman High, Saturday, 6 p.m.
Wildcats avenge Mooney ouster
BOARDMAN
Monday's Struthers-Mooney boys basketball game wasn't an offensive clinic, but the Division II district semifinal did make a point.
"I don't want to take anything away from our guys, but that's a good basketball team," Mooney coach Chris Kohl said after his team absorbed a 57-35 loss to the Wildcats. "They played together for two years and they were the better team tonight."
Struthers (20-2) did it despite 31 percent field-goal shooting against a team that beat the Wildcats in 2010's district semi.
"I'd like to think our defense had something to do with it, but, at the same time, we'll take it," Struthers coach Joe Savko said of winning the rematch despite 16 of 51 shooting.
"We kind of got stagnant in the third quarter," Savko said. "We're trying to run sets and we're trying to execute, but we weren't executing what we were trying to run."
During a timeout, Savko said he told his players: " 'Let's show people that we're a good team if we just play basketball, that we don't have to run all these sets every possession.' I told them to just run up and down and see what happens. We relaxed and made some shots and it got us going."
Nate Jacubec and Jake Jacubec had 16 and 14, respectively, for the winners after Nate went scoreless in a second period during which Mooney outscored Struthers, 11-9.
It still wasn't enough to offset a poor start by the Cardinals (10-11), who got 13 points from Danny Reese and 11 from Ryan Farragher.
Farragher had nine of his team's 38 rebounds while Nate Jacubec had eight of Struthers' 35 rebounds.
Mooney, which made 14 of 43 goals, had six more turnovers, 19-13. The Cardinals also took their lumps at the foul line, making just 5 of 18 to 19 of 25 for Struthers.
"We couldn't buy a basket and what we didn't want to do is come out and be as cold as we were in the first quarter," Kohl said. "When you dig yourself a hole like 14-2 to a team like Struthers, that's a hard hole to get out of. Then they shoot the ball so well."
He vouched for the effectiveness of the Jacubec brothers.
"They look for each other," Kohl said. "They hit some big-time shots after catching the ball off of screens and bang, they were down," the Mooney coach said of scoring plays that seemed to materialize magically.
Struthers didn't need a fullcourt press, other than to throw the Cardinals off balance.
"We mixed it in early and it seemed to work a few possessions, but it was just to keep them from getting momentum," Savko said. "We weren't necessarily looking to trap and steal on every possession, just trying to take away any momentum."
Of countering Reese who had all of his points in the first half, Savko said: "We had a couple guys in the first half that got some fouls," the coach said of Ja'Meire Brown and Jake Jacubec. "So we put Nate on him in the second half and said, 'Try not to let him get lanes. Just keep him in front of you and make him make tough shots.'
"He [Reese] didn't get as many looks as he did in the first half."
Savko will scout the Poland-Streestboro game in anticipation of playing the winner on Saturday.
"It's going to be an interesting match-up. We're going to come out and see what happens. We just want to play, whoever it is."
The Wildcats were certainly eyeing Mooney.
"Our kids wanted Mooney and I'm happy for them because it's tough when a team ends your season," Savko said. "So, they wanted to come out and beat Mooney for that reason."