Lyon Blvd. Potholes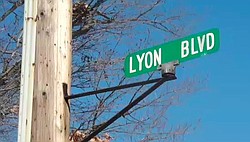 Video
Lyon Blvd. in Poland Twp. is riddled with potholes. One resident describes the street as a war zone.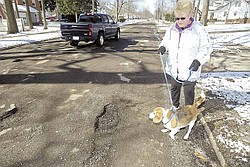 The Vindicator (Youngstown)

Photo
A woman walks her dog on Lyon Boulevard. The Poland Township road is riddled with potholes, and the Mahoning County Engineer's Office plans to improve the road this summer.
The Vindicator (Youngstown)

Photo
Drivers on Walker Mill Road in Boardman Township slow to a crawl as they maneuver to avoid hitting potholes.
Clamor over potholes floods engineer's office with calls
POLAND
Jeff DeChellis doesn't just see the potholes on Lyon Boulevard.
He hears them, too.
"We'll hear cars flying down the road, and it sounds like pieces of their car are flying off," said DeChellis, who has lived on Lyon for two years.
DeChellis, walking his dog, Bella, on a sidewalk parallel to Lyon, said the only time the road has been smooth this winter was when 6 inches of snow packed into the potholes.
Residents on Lyon live in Poland Township, send their children to Struthers public schools and call Mahoning County with road problems.
And they've been calling, said Marilyn Kenner, county chief deputy engineer.
"We've gotten lots of complaints," she said. "... Our office is looking to try to do something to make the road better without having to tear out the whole road and rebuild it from scratch, in an effort to save funds."
The alternatives would include milling off the asphalt and putting a concrete epoxy on the concrete slabs, or the county could put fabric down and add asphalt on the road, she said.
Although Kenner did not have an exact estimate, she said the project would cost at least $250,000 and start this summer.
With either of those options, cracking would occur, "but at least it will hold the road over for five to eight years until the county gets enough money to" completely overhaul the road, she said.
In 2002, the county put an asphalt overlay on Lyon.
Another county road drawing the ire of residents is Walker Mill, which is in Boardman Township.
"It's worse right now," said Bob Johnston, a 26-year resident of Walker Mill.
He said the county "cold-patched [potholes] about three weeks ago, but it's all blown out now."
The cold patch is only a temporary solution, Kenner said.
"With the freeze and thaw, it tends to roll out of the pothole. It also falls apart faster than hot patch," she said.
Hot-mix asphalt becomes available April 15, she added.
This year, Walker Mill is scheduled to have patching, not repaving, Kenner said.
Johnston said it's been repaved a couple of times since he's lived there.
"I'd like to see it repaved entirely now," he said.
Kenner asked for residents' patience as the weather continues to go through a freeze-thaw cycle.
"Our goal is to patch every road and fill all potholes, but it will take time," Kenner said.
More like this from vindy.com