Floyd pleads guilty in slayings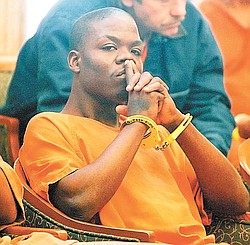 The Vindicator (Youngstown)

Photo
Marquese Floyd sits and watches during an initial appearance in Trumbull County Common Pleas Court, on Feb. 24.
By Ed Runyan
WARREN
Marquese J. Floyd, 27, pleaded guilty Monday in Trumbull County Common Pleas Court to two counts of complicity to involuntary manslaughter in a plea agreement that calls for him to spend 20 to 22 years in prison.
Floyd becomes the fourth of five principal defendants charged in the Nov. 15, 2009, slayings of Wilneice L. Green, 28, and her 13-year-old daughter, Ja-Brajasia of Liberty, to accept a plea agreement and vow to testify against the alleged triggerman, Melvin L. Turner, 37, of Maryland.
Floyd, of Atkinson Avenue, Youngstown, supplied the AK-47 that Turner purportedly used in the killings, and Floyd will receive a two-year reduction in his sentence — to 20 years — if he helps authorities find the weapon.
Chris Becker, assistant Trumbull County prosecutor, said Floyd told prosecutors Floyd hid the gun after the killings, which occurred at Green's home on Northgate Drive.
Floyd's agreed-upon sentence would be the longest of the four defendants who have pleaded guilty so far. They will be sentenced after the case against Turner is complete.
Floyd is reported to have been one of three men who went inside the Green residence in search of Semmie Shorter, 38, who the defendants believed recently had committed a sexual assault on a young girl related to Floyd at Green's house.
Police say Floyd told a girlfriend later that Green and her daughter were not supposed to be killed, and he didn't know why Turner opened fire on Green and her daughter.
With Floyd's plea in hand, prosecutors can turn to the case against Turner, who is serving a four-year federal prison term in West Virginia for embezzling from a health-care program. He was arrested in Baltimore shortly after the Liberty homicides and was sentenced last summer.
Becker said he expects Turner to be returned to Trumbull County "shortly" to face charges in the crime.
Floyd showed little emotion during his hearing before Judge John M. Stuard on Monday. He was scheduled go to on trial Monday but agreed to plead guilty to the reduced charges instead.
Floyd was indicted on two counts of aggravated murder, plus single counts of aggravated burglary and tampering with evidence. Those charges could have resulted in a life prison sentence without parole eligibility.
In addition to the two counts of complicity to involuntary manslaughter, Floyd also pleaded guilty to having used a gun in the crimes, plus aggravated burglary and tampering with evidence.
The third man who entered the house, who pleaded guilty earlier for his role in the crime, was James M. Christian, 21, of Dale Street, Youngstown, who agreed to an 18-year jail term.
Two women, who waited outside the house the day of the crime, also pleaded guilty earlier. They are Denise Jackson, 26, of Trumbull Court, Liberty, who agreed to a 13-year prison sentence; and Appollonia E. Baker, 24, of Miller Street, Youngstown, who agreed to a six-year sentence.
Shalenda T. DeFoor, 21, of Youngstown, girlfriend of Marquise Floyd at the time of the crime, pleaded guilty to obstructing justice and tampering with evidence in the case but was not among those who went to the home.