Brown's last-second attempt blocked; YSU season ends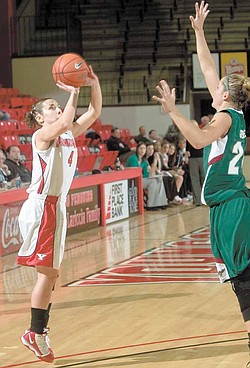 The Vindicator (Youngstown)

Photo
YSU's Bojana Dimitrov takes a shot during a game against Green Bay on Jan. 3.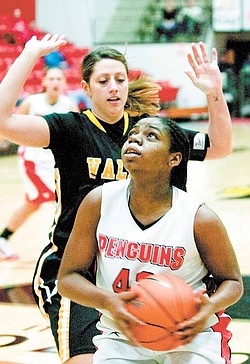 The Vindicator (Youngstown)

Photo
YSU's Brandi Brown looks for a shot during a game against Valparaiso on Jan. 14.
Staff report
CHICAGO
The Youngstown State women's basketball team gave a stalwart defensive effort and had a shot blocked at the buzzer as Loyola handed the Penguins a heartbreaking 49-47 defeat on Monday at the Gentile Center in the opening round of the Horizon League Tournament.
No. 8 Loyola will move on to play at top-seeded Green Bay on Wednesday while No. 9 Youngstown State finished its season at 6-24.
The Penguins trailed by as many as 12 in the second half but freshmen Liz Hornberger and Monica Touvelle (Boardman High) gave them a lift and a chance to win late.
Macey Nortey's triple put the Penguins within two with 1:17 left, and YSU's defense held on Loyola's possession.
Tieara Jones (Rayen) rebounded her own miss that would have tied the game with less than 10 seconds left, and the Penguins called a timeout with 4.7 seconds left to set up an out-of-bounds play.
The league's leading scorer, Brandi Brown, got the ball on a cut to the rim, and her shot was blocked by Brittany Boeke as time expired.
Brown finished with a team-high 16 points despite having an off night. She was 4-for-4 from the free-throw line and finished the season making 35 of her final 36 attempts from the charity stripe.
YSU coach Bob Boldon campaigned that she should have had a chance to make two more at the end to send the game to overtime.
Hornberger finished with 12 points on four 3-pointers, matching her career high that she set in YSU's 84-65 win over Loyola on Saturday. Jones posted eight steals, which was the most by a Penguin this season and tied for the eighth-most for a game in school history.
Monica Albano scored 15 of her game-high 19 points in the first half, and Abby Skube scored 13 of her 17 points in the second half.
Youngstown State, which had shot at least 42 percent in four straight games, made just 26.6 percent of its attempts.
More like this from vindy.com