Cuts threaten projects at Youngstown Air Reserve Station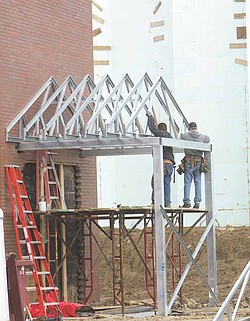 The Vindicator ( Youngstown)

Photo
A new entrance to the mess hall next to new housing at the Youngstown Air Reserve Station is under construction.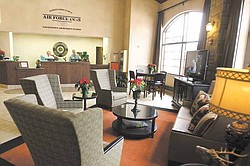 Photo
The lobby of the Eagles Nest Lodge at the Youngstown Air Reserve Station in Vienna features comfortable furniture and a large flat-screen television in front of the check-in desk. However, federal budget cuts could bring construction of additional new lodging at the air base to a halt.
VIENNA
Federal budget cutbacks could bring a screeching halt this year to new construction projects at Youngstown Air Reserve Station.
The 910th Airlift Wing's project wish-list alone has more than $60 million worth of construction projects, including $10.6 million for Phase 3 of new lodging for Air Force, Navy and Marine Corps reservists while they train. Phase 3 would replace 40-year-old lodging buildings.
At this point, only $8 million has been budgeted for the entire Air Force Reserve Command for fiscal 2011, which began Oct. 1, 2010, said Col. Fritz Linsenmeyer, 910th and reserve station commander.
Linsenmeyer said funding for Phase 2 of the lodging facility, which is under construction and should be done this fall, is secure.
Other top future construction projects on reserve station's priority list include a $9.4 million indoor small-arms firing range and security-forces facilities totaling $18.3 million, according to a January 2010 station document.
Linsenmeyer said he is confident money will be made available for necessities, such as maintenance of facilities and equipment.
But, he said, "This is a very difficult fiscal environment. We have to do more with less. We should all be better stewards of the taxpayers' money."
Despite the anticipated budget constraints, the air reserve station continues to be a major economic engine for the Mahoning Valley.
In 2010, YARS infused more than $126 million into the local economy, up $11 million over 2009. This includes $61.7 million in payroll, $41.9 million in expenditures, and $22.5 million in jobs created.
The $10 million Phase 2 lodging building under construction is one of several multimillion-dollar military construction projects completed over the last few years at the reserve station, Linsenmeyer said.
Some 1,600 Air Force reservists and 250 Navy and Marine Corps reservists are assigned to the station for training.
The 2010 construction project report said 338 lodging rooms are required to meet base and joint operation uses. Current facilities have 76 rooms of which 65 are double occupancy. Reservists or visitors not accommodated by base lodging are put in area motels, which is inconvenient and more expensive than base housing over time, Linsenmeyer said.
Linsenmeyer has high praise for the more than 2,000 local Air Force, Navy and Marine reservists, federal civilian employees, and contractors assigned to the station.
"Team Youngstown leads the way in serving our great nation. Having served for more than 28 years, I've never seen a better integrated, more professional team than we have here," he said.
The base population includes 1,624 Air Force reservists, including 254 full-time Air Reserve technicians; 425 civil service employees; 189 Navy and Marine Corps members; and 64 contractors assigned to YARS, for a total of 2,048.
The base commander said it is not known when the next Base Realignment and Closure will occur, but he said when, not if, it comes, the air reserve station is well-positioned to survive.
The 910th, home to 12 C-130 Hercules cargo aircraft, has the Defense Department's only fixed-wing aerial spray mission, and has a great reputation for completing its missions, said Linsenmeyer, who served in the BRAC process in 1995.
The Base Realignment and Closure is a process used by the Defense Department and Congress to decide which excess military installations to close and to realign units to reduce expenditures on operations and maintenance and improve efficiency.
The air reserve station survived the most recent BRAC procedure in 2005. More than 350 installations were closed by four BRAC rounds in 1989, 1991, 1993, and 1995.
---
910th Airlift Wing year in review
910th air crew members flew the unit's C-130 Hercules aircraft nearly every day of 2010 on local low-level flying operations and other types of flying training. Last year, the 910th Airlift Wing flew more than 2,200 sorties and more than 4,400 hours in support of training and operational requirements. 2010 humanitarian missions included:
January: Nine C-130s supported humanitarian relief missions for earthquake victims in Haiti.
April: The 910th sent two specially modified aerial spray equipped C-130s and support crews to Stennis International Airport, Miss., in response to the Deepwater Horizon oil spill cleanup efforts on the Gulf of Mexico. The Deepwater Horizon mission was the first time the Department of Defense used the oil-dispersing capability of the 910th in a spill of national significance.
May: About 80 air crew, maintenance and support personnel were deployed overseas to Ramstein Air Base, Germany, in support of the U.S. African Command, logging 647.7 flying hours, airlifting 745.7 tons of cargo and 712 passengers on 86 missions throughout the European, Mediterranean, and Middle Eastern theaters.
Throughout 2010: Reservists deployed in support of contingency operations to Kuwait, Turkey, Kyrgyzstan, Iraq and other places for up to six months at a time. Twenty-one full-time and 185 drilling reservists assigned to the Naval and Marine Corps Reserve Center on base contributed to the nation's defense by mobilizing 84 reservists in support of Operations New Dawn, Iraqi Freedom and Enduring Freedom.
Source: 910th Airlift Wing
More like this from vindy.com