---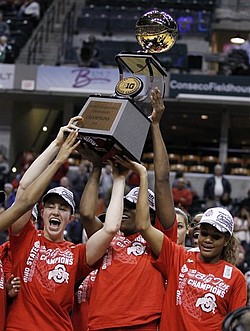 AP

Photo
Ohio State's Sarah Schulze, left, Jantel Lavender, and Brittany Johnson, right, hold the championship trophy after Ohio State defeated Penn State 84-70 in an NCAA college basketball game, winning the Big Ten tournament in Indianapolis, Sunday, March 6, 2011. (AP Photo/Michael Conroy)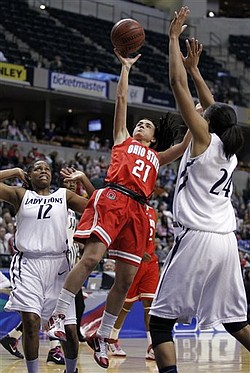 AP

Photo
Ohio State guard Samantha Prahalis, center, shoots between Penn State's Zhaque Gray, left, and Mia Nickson in the second half of an NCAA college basketball game for the championship in the Big Ten tournament in Indianapolis, Sunday, March 6, 2011. Ohio State defeated Penn State 84-70. (AP Photo/Michael Conroy)
By Jim Massie
The Columbus Dispatch
INDIANAPOLIS
Sometimes miles can't describe the length of a journey.
The Ohio State women's basketball team appeared so lost a month ago that even suggesting it could find the way back to the Big Ten race seemed improbable.
Miles of reflection and practice later, the Buckeyes cut down the nets on Sunday in Conseco Fieldhouse to celebrate defeating Penn State 84-70 in the championship game of the conference tournament.
"Another lifetime," Ohio State coach Jim Foster said of the slump. "A long time ago, but we are who we are. We are a byproduct of our experiences and we have a lot of them. We grew up a lot."
In winning their third consecutive Big Ten tournament, a ninth straight game and the automatic bid to the NCAA tournament, the fifth-seeded Buckeyes (22-9) ran a gantlet through fourth-seeded Iowa, first-seeded Michigan State and second-seeded Penn State on consecutive days.
The team scarcely resembles the outfit that stood 13-9 overall and 4-6 in the conference after a home loss to Northwestern on Feb. 6.
"It doesn't matter what is thrown at us," senior center Jantel Lavender said. "We dealt with adversity in the beginning of the season. I think that made us a lot tougher. It is showing, in these last nine games, that we are a good team."
Lavender helped quiet the Lions (24-9) and silence critics with a 23-point, 15-rebound performance in the championship game. In the process, she won a record third most outstanding player award.
Junior point guard Samantha Prahalis and sophomore guard Tayler Hill joined her on the all-tournament team. Prahalis matched Lavender with 23 points and triggered the offense with nine assists.
Hill delivered 17 points, five rebounds and combined with Prahalis to play smothering defense against Penn State perimeter threats Alex Bentley and Maggie Lucas.
The latter element most pleases Foster and has raised the group in his estimation.
"This year, walking into this tournament, I thought we were really playing well," he said. "I thought we were together. I thought the ball moved really well, and that we really understood how important the defensive aspect was for us. I would say this is the best team of the last three."
Hill understood his thought process.
"This year's team, as the season goes on, is getting better and better," she said. "Last year's team, we got to our maximum and we were just cruising along."
Prahalis watched the final 9:16 minutes of the win over the Spartans from the bench. She hit the court running against Penn State and the Buckeyes followed. The benching, she said, didn't charge her motor.
"It's an always thing," Prahalis said. "I came out aggressive because I wanted to win really bad."