In Focus: Newport café offers books, meals
In Focus: New Seasonings at Chapters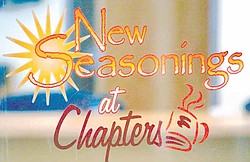 Gallery
STORY & PHOTOS
YOUNGSTOWN
If you are looking for a good book and a good meal, your destination should be the Newport Branch of the Public Library of Youngstown and Mahoning County, 3730 Market St.
The food is prepared by chef Sandra Robinson, associated with Everlife Worship Center, 474 Early Road, on Youngstown's East Side.
And you can get everything from coffee to salads, soups and sandwiches and daily specials at the café called New Seasonings at Chapters.
The atmosphere is warm and friendly, as café employees and Robinson work hard to ensure patrons are as well-fed as they are well-read.
Robinson said she loves to cook, and her specials are more than just a can of soup and cheese sandwich. She uses her years of cooking expertise to bring a unique flavor and taste to every dish she prepares.
The marriage of the church and the library has benefited both, but more importantly, it is a haven for the South Side neighborhood that needed a good café with great homestyle meals close by.
"The library is an integral part of the community, and having the café is a great addition for the patrons and the neighborhood," says Janet Loew, the library system's communications/public relations director.
D'Andre Damous of Youngstown said he enjoys the quiet atmosphere and personal service. He especially enjoys the daily specials "as it is food you can't get anywhere else."
New Seasonings at Chapters is open from 7:30 a.m. to 3:30 p.m. Tuesday through Saturday.