Edwards' gamble on tires pays off in Vegas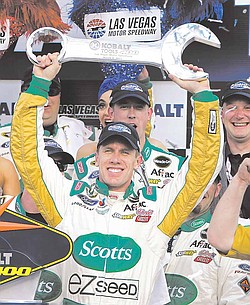 ASSOCIATED PRESS

Photo
Carl Edwards celebrates his victory in the NASCAR Sprint Cup Series auto race Sunday, March 6, 2011, in Las Vegas.
Riding with …
Dave Blaney
Sunday: The Hartford native finished right where he started — 34th — in the Kobalt Tools 400 at Las Vegas Motor Speedway. Blaney finished seven laps off the pace of winner Carl Edwards, but picked up 11 points, including a bonus point for leading a lap.
Season to date: Blaney is in 35th place in the Sprint Cup standings with 32 points. He's five points behind rookie Andy Lally.
Next: NASCAR's top series takes a week off before heading to the short track at Bristol, Tenn., on March 20, for the Food City 500.
Staff report
ASSOCIATED PRESS

Photo
By Reid Spencer
Sporting News NASCAR Wire Service
LAS VEGAS
A mistake in the pits by Tony Stewart's crew gave Carl Edwards the chance he needed to put the frustration of the first two NASCAR Sprint Cup Series races of the season behind him.
Capitalizing on a penalty to Stewart, who dragged an air wrench from his stall under caution on Lap 155, Edwards powered his No. 99 Ford across the finish line 1.246 seconds ahead of Stewart's No. 14 Chevrolet in Sunday's Kobalt Tools 400 at Las Vegas Motor Speedway.
The victory was an effective salve to the disappointment Edwards felt after finishing second in the Daytona 500 and having his pole-winning car knocked into the fence early in last week's race at Phoenix.
Edwards took the lead from Stewart during a cycle of pit stops late in the race. Stewart, who had taken two tires in a track-position play on his previous stop, had to pit early for four tires during the final run.
Edwards had the luxury of taking two tires on his last stop, and that gave him the margin he needed to beat the fast-closing Stewart and third-place Juan Pablo Montoya to the finish line.
The victory was the 19th of Edwards' career and his third in the past five races, dating to Phoenix in November.
Marcos Ambrose ran fourth, and Ryan Newman came home fifth. Martin Truex Jr., Denny Hamlin, Dale Earnhardt Jr., Kurt Busch and Brian Vickers completed the top 10.
"This means a lot, coming off Phoenix," said Edwards, who led the final 23 laps. "After last weekend, I had no clue — I just didn't know how things were going to go from there. You don't get a good racecar like that very often, but I had another one today."
Stewart restarted 24th on Lap 157 after his pit-road penalty, but the two-tire call on Lap 198 (under caution after Jeff Gordon's Chevy pounded the Turn 4 wall), returned Stewart to the lead, and the No. 14 Chevrolet was good enough to pull away from cars with four tires.
With 40 laps left in the race, Stewart held a 3.5-second lead over Montoya, his closest pursuer. Stewart, however, knew it wouldn't last.
"[Crew chief] Darian [Grubb] made a good call getting us the track position back, but it also showed everybody else that they could do it, too, and we couldn't run 21/2 runs on a set of left-side tires."
Stewart found little consolation in having the fastest car and tied for the series points lead with Kurt Busch.
"It kills me to throw a race away like that, especially at a place we haven't won at yet," Stewart said. "This was a big deal today, and when you lead that many laps and have a car that's that fast and you lose it … I'm sure tomorrow when the emotion dies down we'll look back and say it was a great weekend. But, man, it does not sit good right now."
More like this from vindy.com