Potts-Schiavoni April wedding to be in Florida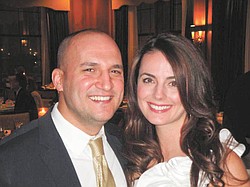 Photo
Joe Schiavoni and Margaret Potts
CANFIELD
The engagement of Margaret Potts and Joe Schiavoni, both of Canfield, and plans for their upcoming marriage are being announced by their parents.
The bride-to-be is a daughter of Lori Centofanti of Youngstown and Scott Potts of Austintown, and the future groom is a son of Lou and Joan Schiavoni of Boardman.
The couple will be united in marriage at 5:30 p.m. April 29 at Carlouel Yacht Club in Clearwater Beach, Fla. Invitations will be issued for the wedding and for a reception immediately afterward. Their marriage will be blessed during a ceremony at St. Dominic Church in Youngstown.
The bride-elect graduated from Youngstown State University with bachelor's degrees in biology and nursing, and from St. Elizabeth Health Center School for Nurse Anesthetists with a master's in nurse anesthesia. She is a nurse anesthetist with the Cleveland Clinic in Cleveland and with Southwoods Surgery Center in Boardman.
The prospective groom graduated from Ohio University with a bachelor's degree in communications, and from Capital Law School with a juris doctorate. He is a state senator for Ohio, representing the 33rd District, which encompasses Mahoning, Carroll and portions of Stark and Tuscarawas counties. He is also an attorney with Schiavoni, Schiavoni, Bush & Muldowney, LPA, in Austintown.